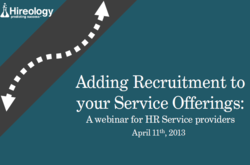 By adding talent management to their offerings, service providers are able to better cater to their client's needs. -- Adam Robinson, Hireology CEO
Chicago, IL (PRWEB) April 19, 2013
Hireology has released an archive of their latest webinar, "Adding Recruitment to Your Service Offerings." Presented by Hireology CEO Adam Robinson, the webinar takes listeners through the process of adding talent management to their service offerings.
Conducted to assist HR service providers in adding recruitment to their service offerings, this webinar outlines what is required to enter the space, pricing models and how to best offer it to clients. The 30-minute presentation was recorded during a regular scheduled webinar by the selection management platform.
"HR service providers are always working to stay on top of industry trends," said Robinson. "By adding talent management to their offerings, service providers are able to better cater to their client's needs."
To listen to the webinar, please click here.
For even more information on recruiting and selection, download "Succeeding in the Recruiting and Selection Business: A guide for HR service providers" from the link above.
About Hireology
Hireology's award-winning Selection Management System helps companies organize their hiring process and leverage data to make better hiring decisions. Franchise systems, banks and financial institutions, healthcare systems, dealer networks, and other multi-site operators use Hireology's web-based Selection Manager™ to deliver consistent and repeatable hiring decisions in the field - leading to better hiring decisions, lower turnover, and increased profitability per location. For more information, please visit http://www.Hireology.com.