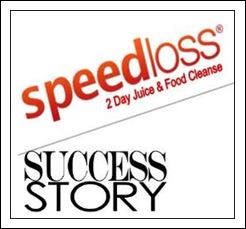 (PRWEB) April 20, 2013
Speedloss, a two-day juice and food cleanse that can lead to weight loss of up to 12 pounds, will be shipped with entirely upgraded look and feel this month, the company is happy to announce. The upgraded look will entail a new exterior box and new interior containers, which should not only provide an aesthetic benefit to the customer but also provide better protection for shipping as well as easier access to the juice and food portion packages.
Speedloss operates on the principles of juice cleansing, wherein the body is given a break from the aggressive digestion process and can rid itself of toxins and sludge that accumulates in the intestines slowing the metabolism down and causing fatigue in addition to other possible ailments. By cleansing the body with the right combination of food, juices, proprietary protein shakes and soups, vitamins, and juice, Speedloss can help your body cleanse and detoxify gently, which can lead to quicker, healthier weight loss without causing you to spend your days in the bathroom. The company markets the cleanse as ideal for situations where a quick weight loss is needed (prior to a wedding or vacation, for example) and the greatest weight loss results are seen when the person in question is more than 15 pounds overweight.
Speedloss is made to order and ships within 14 to 21 days of order placement, and contains all the materials necessary to complete the detox program. For the basic two-day Speedloss, the package includes every food, juice and supplement to be ingested during the cleanse in the proper portions. In addition to the basic version, there is a basic vegetarian version as well as a sport version for those who lead more active lifestyles and require a slightly higher caloric intake to retain muscle mass and energy during the cleanse.
To learn more about the upgraded packaging for Speedloss, or to find out more about how Speedloss can help people lose weight, please visit http://www.myspeedloss.com/.
About Speedloss – Speedloss, developed by parent company Vertex Body Sciences Inc, was developed by a group of celebrity personal trainers and has been providing people of all shapes and sizes with an effective weight loss solution for over ten years. Based on scientific principles of juice cleansing and healthy living, Speedloss is not just another fad diet. Now with over 500,000 products sold worldwide, Speedloss hopes to continue spreading the news about its unique juice and food cleanse.