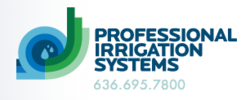 Saint Louis, MO (PRWEB) April 22, 2013
Summer 2012 was the most severe and extensive drought in at least 25 years; projections for 2013 estimate more of the same. Spring is in motion as well as the expected spring thunderstorms; recent and frequent flood warnings lately may cause some to gamble with the health of their lawn and incorrectly assume St Louis will have enough moisture during the summer to keep their lawn green.
St Louis Professional Irrigation was established in 2001; for the past 12 years, their priority has been providing customers quality irrigation systems that save time, money, and water. In March of 2012, Professional Irrigation joined forces with Water Tech Irrigation in South County; voted as the best service company in the Metro St Louis area, the merger offers clients a larger footprint for service, quicker response times, and additional highly trained technicians.
Irrigation systems are more efficient than any other form of watering because they put the exact amount of water where it is needed. No more watering sidewalks or missing patches on the lawn. Clients can save time as the irrigation systems work on their own; moreover, the system soon pays for itself, as landscapers no longer have to be brought in to resuscitate a withered and dying lawn. Finally, professional irrigation systems are designed to prevent excessive amounts of water from being used to keep their landscape green.
Spring is the best time to install a professional irrigation system. With a one-day, minimally invasive installation services, clients can look forward to properly-timed sprinklers at the optimal time of day. In addition, users no longer have to worry about over-watering or sky-high water bills. Remember, with enough moisture, a lawn can thrive and endure the harshest of droughts. If users already have a professional irrigation system installed, now is the time for inspection. Winter and foot-traffic can adversely affect the precision of items such as the sprinkler heads, resulting in small flaws cascading into larger problems. Protecting one's investment is crucial, which is why scheduling regular tune-ups is important.
St Louis Professional Irrigation can be reached via their website at http://www.proirrigation.com or call them at 636 695-7800.