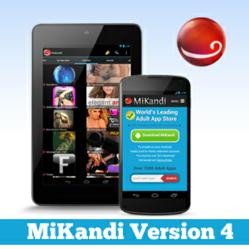 Seattle, WA (PRWEB) April 22, 2013
MiKandi announced today a sizzling update to the MiKandi Adult App Store, Theater, and web portal. Redesigned from the ground up, the new and improved MiKandi boasts a complete interface overhaul, faster performance, broader device support, and showcases content from the world's most popular adult brands - Hustler, Elegant Angel, Brazzers, Private and much more.
"Today's announcement represents our long term vision of becoming the premier adult mobile content delivery platform," shares MiKandi CEO Jesse Adams. "That means providing unmatched customer convenience, selection, and service. With over 7,000 adult apps and millions of users, this latest release makes it even faster to find the adult content you desire."
The new MiKandi app store and web portal offers significant improvement in browsing, downloading apps, and watching unlimited mobile adult videos. Content delivery has been dramatically improved by upgrading to SendFaster, the latest in network acceleration technology. Users are now seeing more quality content at up to 500% faster delivery rates with less jitter and less buffering.
In addition, MiKandi partnered with a groundbreaking Seattle startup to power their customer service engine, enabling users to reach MiKandi support directly within the application. "Our commitment to a higher standard of service resonates with our customers," remarks co-founder Jen McEwen. "We answer every support inquiry personally and swiftly, and offer a no-hassle refund policy. As a result, our chargeback rate is one of the lowest in the industry, and our customers purchase sooner and more frequently than ever before."
Starting today, customers can enjoy MiKandi Version 4 on their Android devices by installing the latest version of the MiKandi app, available as a free download on the company's website.
About MiKandi, LLC: With 4 million installations, over 1 million registered users, and 7,000 adult apps, MiKandi is the world's largest app store for adults. The MiKandi App Store is free to download and currently supports Android devices only. The MiKandi Theater is available to customers on all touch devices, including iPhone and iPad. Adult studios and app developers can register a free MiKandi account at developer.mikandi.com. For more information, call: +1 206-659-9891 or email: info(at)mikandi(dot)com.