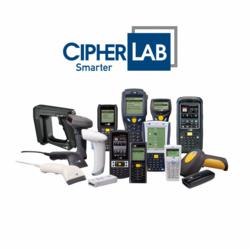 CipherLab is the answer to increasing efficiency, delivering quality customer service, and creating immediate profit regardless of the business you are in.
Anaheim, CA (PRWEB) April 21, 2013
CipherLab USA, a global leader in the design, manufacture, and marketing of Automatic Identification and Data Capture/Collection products and systems, will showcase its latest line of barcode scanners and mobile computers at the 36th Annual International Retail User Group Conference, IRUG 2013 at the Anaheim Marriott, April 21-23, 2013 booth #44. CipherLab will have the recently launched CP60 series Mobile Computer on display as well as the 8200 series mobile computer.
The CP60 is packed with flexible wireless communication options in 3.8G HSPA+, 802.11 a/b/g/n, and Bluetooth® V2.1 with EDR. Its embedded GPS/AGPS allows total navigational control. Moreover, CP60 is armed with a 1GHz processor and multiple operating system options in Windows® Embedded Handheld 6.5.3. It comes fully equipped with a large 4 GB flash memory and 512 MB SDRAM, which allows for extended storage of data and software. On top of all that, it provides versatile and accurate data capture with laser reader, long range laser reader, 2D imager and 5 megapixel autofocus camera. Aside from all of its advantages, the rugged design of CP60 with IP67 is proven to withstand harsh environments. It passes 1.8m drops onto concrete and 2,000 tumbles at 1m ensuring durability. The CP60 is built with both power and toughness.
The 8200 series enterprise mobile computer optimizes retail workflow and efficiency with expandable memory capacity, long-lasting performance, and a lightweight ergonomic design. Developed with workflow management in mind, the 8200 series addresses the needs of busy retailers to ensure the right products are on the right shelves with right prices. Its easy-to-use interface minimizes training requirements and supports a variety of software solutions including an "intelligent order entry" solution which can replace most grocery wholesalers' old Telxon, MSI and Symbol terminals.
For more details and specifications regarding CipherLab Mobile Computers and Barcode Scanners or request for demo, please send an email to NASales(at)cipherlab(dot)com or contact our office at 888-300-9779 by phone.
About CipherLab
CipherLab is a global leader in the design, manufacture, and marketing of Automatic Identification and Data Capture/Collection products and systems. The company's mobile computers and scanners are integrated into the networks of some of the world's best known logistics, retail, distribution, government installations and healthcare companies, helping them run more efficiently and effectively onsite and on the road. CipherLab USA is headquartered in Plano, TX. For more information, please visit http://www.cipherlab.com or like us at http://www.facebook.com/CipherlabUsa.