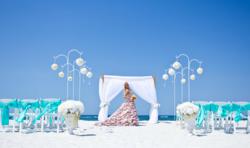 Florida, US (PRWEB) April 22, 2013
Wanting the perfect wedding day can be a very grueling process, full of too much details and planning. Hiring a wedding planner who knows what they are doing is not an option, it is a must. Kristina from Princess Weddings talks to ProfileTree about creating the perfect wedding day.
Kristina spoke about the beauty of seeing the smile on the face of all her brides and grooms. She credits a big part of her success to the internet "Internet is vital in booking weddings and staying on contact though out planning." As for social media, she says, "Social Media plays vital role in our business. Thanks to Facebook, Twitter and Instagram we are able to reach millions of brides worldwide."
When it comes to a strong online presence, Ciaran Connolly, Co Founder of ProfileTree cannot stress it enough "in this day and age, getting a strong online presence is as important as an attractive window display except that it reaches people in their homes 24/7. Social Media should always be a priority for small business owners."
About ProfileTree: ProfileTree is a free listing service where self employed and small business owner can create an online marketing profile. Profile Tree's main goal is to help small business owners reach new customers every day with the most innovative online marketing tips and techniques. The website also enjoys sharing motivation photos for the self employed, helping with focus and drive. From professional wedding photographers to anyone offering a service - it can be listed online today.