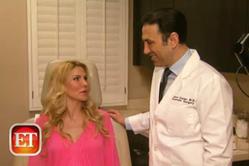 Los Angeles, CA (PRWEB) April 21, 2013
As reported in the May 2013 issue of Vogue magazine, a variety of facial peels are now in use in doctors' offices again after a period of declining use. The aggressive, stronger-is-better technique has given way to a gentler approach. The newer peels are milder, with formulas for all types of skin tones and issues. (go to goo.gl/M1iop)
"I was never a big proponent of peels," says Dr. Simon Ourian, Medical Director of Epione Beverly Hills. "I remember the days, as the article mentions, when the peels used were so strong that they effectively kept the patient at home for days. Recovering enough so that one could be seen in public might take as long as ten days."
In the 1990's, according to the article, peels were typically single-acid based, very high strength concoctions applied with the purpose of resurfacing the skin. Side effects included a bright red, sunburned appearance and itchy, shedding skin for a week or more. The new peels tend to combine various lower-strength acids, or no acid at all, and are designed to encourage the skin to shed only its top layers, impurities, and pore clogging cells.
"I'm amazed at the claim of the Manhattan facialist who says she'll do a peel on a bride on the day of her wedding," says Dr. Ourian. "Even if it's just a light peel, I just don't think that's a wise choice."
Dr. Ourian has been a pioneer in laser technology and non-invasive aesthetic procedures including Restylane, Juvéderm, Radiesse and Sculptra. These treatments are used for the correction or reversal of a variety of conditions such as acne, acne scars, skin discoloration, wrinkles, stretch marks, varicose veins, cellulite, and others. More information about facial peels can be found on Epione's website.