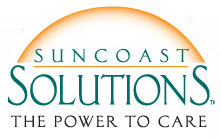 Clearwater, FL (PRWEB) April 22, 2013
Hospice and Healthcare regulations are leaving physicians and clinicians burdened with exponential increases in paperwork. To lighten the load, Home Health and Hospice software provider, Suncoast Solutions, created the new Physician Portal—to be featured at the NHPCO 28th Annual Management & Leadership Conference in National Harbor, MD on April 24-27th at Booth #323. The Suncoast Solutions Physician Portal is part of the latest software release, Cloud7, which provides web-based instant access to medically necessary data coupled with the ability to view, update, and electronically sign orders anywhere via the web. The Suncoast Solutions Physician Portal is also secure and HIPAA-compliant, giving physicians and staff a two-way communication channel, as well as an e-referral tool for agency partners to submit referrals quickly and easily.
In a pilot test with Saint Francis Hospice of Tulsa, OK, Medical Director Dr. Thomas Costner said he would not have been able to clear pending orders without the added efficiency of the Physician Portal. The agency found that throughout the entire pilot, they got quicker, more accurate responses to patient orders.
Carla Jones, R.N., M.S. Nursing Informatics explains how this portal aided in better patient care: "The Physician Portal helps all the processes that agencies and physician offices go through in communication, maintaining Medicare standards and staying compliant. All these factors ultimately impact the quality of patient care, and providing quality care is why we exist."
This all-encompassing tool provides enhanced results by streamlining workflow for physicians anywhere at any time, empowering clinicians to improve communication and efficiency, and giving care communities a secure way to make referrals and build relationships with Hospice/Home Care organizations.
For more information, read the full Suncoast Solutions White Paper here or at http://www.sncoast.com.
About Suncoast Solutions
Suncoast Solutions is the leader in software solutions for Hospices and Home Care companies nationwide. Our Home Care software suite is built from our experience and best practices. Our culture-rooted solution is process focused, giving you instant access to patient history and status and the ability to manage clinical, financial and administrative activities from one consistent record accessible to all users across all services lines. For more information visit: http://www.sncoast.com.