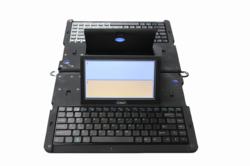 Raytown, Missouri (PRWEB) April 24, 2013
sComm, engineer, and manufacturer of the original UbiDuo, the face-to-face communicator, announced the next generation UbiDuo 2 communication device on January 26, 2013. In front of 250 live guests at sComm headquarters and a live-streamed Internet audience, Jason Curry, CEO of sComm, unveiled the newest model of the world's foremost communication solution for people who are deaf, hard of hearing or hearing.
After six years of marketing the original UbiDuo, sComm listened to input and feedback from customers and used that data to carefully tailor the UbiDuo 2 to more exactly meet those customers' needs. This revolutionary communication device promotes communication equality by empowering deaf, hard of hearing, and hearing people to freely interact with each other face-to-face and eliminates bluffing, frustration and Communiphobia.
The sleek new UbiDuo 2 has a color touch screen, weighs four pounds, and is highly portable at half the size of the original UbiDuo. The unique patented hinge technology holds the two halves securely in place for easy transportation, and its eight-hour battery life ensures that users won't be left stranded in the middle of those important conversations.
The UbiDuo 2's new software platform, UbiOS, allows users to converse with each other face-to-face anywhere at any time and exchange text in real time on a split-screen display. As a key is pressed on either keyboard, the corresponding character appears simultaneously on both halves of the UbiDuo 2, which enables the conversation to proceed at warp speed and eliminates the need to take turns talking or wait for a response from the other party.
"The next generation UbiDuo 2 sets a new standard of face-to-face interaction and experience never available or offered before on a communication device for deaf, hard of hearing, and hearing people," says Jason Curry, CEO of sComm.
The UbiDuo 2 is now available on the market and ready for purchase.
About sComm
sComm, which stands for "simultaneous communications," is a privately-held company in Raytown, MO founded in 2005 to design its first product, the UbiDuo, a dedicated communicator that facilitates face-to-face text-based communication in businesses, government, agencies and social settings. Information about sComm and the UbiDuo 2 is available now this month at http://www.sComm.com.
sComm was a recipient of the Technology Company of the Year Award by the Missouri Department of Economic Development in 2006, and the Inclusion for Universal Design Award from the Governor's Council on Disability in 2006. sComm was chosen as one of the top Diversity Businesses in 2011.
###