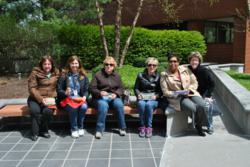 Bala Cynwyd, PA (PRWEB) April 22, 2013
GREENPHLY, the sustainability program of Philadelphia Insurance Companies (PHLY), is excited to announce the participation of more than 500 employees nationwide in this year's Earth Day celebration. More than 100 employees at the Company's Bala Cynwyd, PA home office attended GREENPHLY's Picnic for Earth, an event introduced by The Nature Conservancy, a leading conservation organization.
Employees were asked to pack a waste-free lunch for the picnic and had the opportunity to view a demonstration by representatives from Philadelphia's Clean Air Council on how to properly load a bicycle onto a SEPTA bus. Another 100 employees in PHLY's 44 regional offices also participated in waste-free picnics.
Additionally, more than 500 PHLY employees nationwide raised $1,000 in GREENPHLY's Earth Day Jeans Day fundraiser for The Nature Conservancy. Those who participated received a GREENPHLY Earth Day button and were able to wear jeans instead of business casual attire to the office on Earth Day.
PHLY employees across the country also took a few hours from the work day to volunteer in their communities. In Bala Cynwyd, PA, 46 employees signed up to spend the afternoon volunteering with the Friends of the Wissahickon, a nonprofit organization dedicated to preserving the natural beauty and wildness of the Wissahickon Valley. The volunteer event took place at the Thomas Mill Covered Bridge and consisted of installing a small section of split rail fence, closing a couple of old trails, planting native trees, and clearing debris.
Employees from the Company's Home Office also participated in the Philadelphia Clean Air Council's 5k Run for Clean Air on Saturday, April 20 and an in-office e-waste collection leading up to Earth Day.
About Philadelphia Insurance
Philadelphia Insurance Companies designs, markets, and underwrites commercial property/casualty and professional liability insurance products incorporating value added coverages and services for select industries. In operation since 1962, the Company, whose commercial lines insurance subsidiaries are rated "A++" (Superior) by A.M. Best Company and "A+" for counterparty credit and financial strength by Standard & Poor's, is nationally recognized as a member of Ward's Top 50, National Underwriter's Top 100, and one of the Top 150 Workplaces in America by Workplace Dynamics. The organization has 45 offices strategically located across the United States to provide superior service. For more information, please visit http://www.PHLY.com.
###