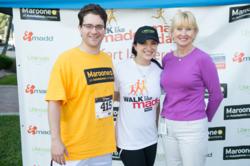 Ft. Lauderdale, FL (PRWEB) April 23, 2013
MADD Broward has been selected to participate in BTIG's Commissions for Charity Day, to be held on May 14, 2013. In its 11th consecutive year, the international Commissions for Charity Day has raised more than $21 million from equity, fixed income and derivative trading commission profits in support of more than 350 nonprofit organizations nationwide.
This year MADD Broward will benefit in coordination with the "2013 Walk Like MADD & MADD Dash" presented by Ultimate Software and AutoNation, taking place on Sunday, April 28, 2013 at Huizenga Park in Ft. Lauderdale (http://www.walklikemadd.org/fortlauderdale.).
"We are so honored to be included in this generous act of giving," states 2013 event chairwoman Heather Geronemus. "Having lost my father to drunk driving four years ago, MADD Broward provided unparalleled support to me and my family. Funds raised by BTIG's 2013 Charity Day will provide additional funding for MADD Broward's community education, victim support services and youth programs that work to eliminate drunk and drugged driving in Broward County."
The BTIG event is unique in that it is a client driven event. BTIG clients nominate charities and non-profits for donation consideration. The annual BTIG Commissions for Charity Day is also well-known for hosting celebrities at several of BTIG's offices including New York, Los Angeles, Boston and San Francisco. Last year, celebrities such as Michael J. Fox, Matt Dillon, Rex Ryan and Kelly Ripa among others participated in this phenomenal day of giving.
"Our annual Charity Day has become an event that the celebrities, clients and employees look forward to each year," said Steven Starker, Co-Founder of BTIG. "Over the years we have seen this event grow with many celebrity traders returning year after year to represent their charitable foundations. We look forward to this year's event being even bigger and better than before."
MADD has a proven track record of saving lives. Every step taken and every pledge made will help raise funds and awareness for MADD's programs and services that will serve to make our communities safer.
Do you live in or are you visiting the Ft. Lauderdale area on Sunday April 28, 2013? To register for the "2013 Walk Like MADD or MADD Dash" visit http://www.walklikemadd.org/fortlauderdale. "Like" what MADD Broward is doing? Show us at http://www.facebook.com/MADDDashFortLaud.
About MADD
Founded by a mother whose daughter was killed by a drunk driver, Mothers Against Drunk Driving (MADD) is the nation's largest nonprofit working to protect families from drunk driving and underage drinking. MADD also supports drunk and drugged driving victims and survivors at no charge, serving one person every nine minutes through local MADD victim advocates and at 1-877-MADD-HELP. Learn more at http://www.madd.org or by calling 1-877-ASK-MADD.
About BTIG
BTIG LLC is a premier institutional brokerage and fund services company. BTIG continues to build its global franchise around a broad and experienced group of professionals who are leaders and experts in their respective fields. Founded in 2002, BTIG, including through its affiliates, employs more than 400 professionals in five different countries. BTIG serves customers from all over the world and offers services in 11 areas: Equity Trading, Fixed Income, Futures Trading, Convertible Securities, Equity Derivatives, Prime Brokerage, Outsource Trading, Direct Market Access, Capital Markets, Equity Research and Corporate Access. BTIG has ten domestic offices: New York, San Francisco, Dallas, Boston, Chicago, Los Angeles, Greenwich, Red Bank, Atlanta and Orinda. The firm also has four overseas affiliates: London, Hong Kong, Singapore and Sydney.