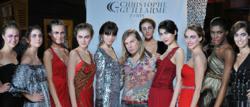 BAYFashion has put together a lineup of designers from all over the world, diverse in their design philosophies yet very closely tied to each other in their desire for perfection in fashion and ability to execute amazing clothes.
San Francisco, CA (PRWEB) April 23, 2013
BAYFashion Media - San Francisco's largest fashion network and the publisher of BAYFashion Magazine announced the lineup of 7 designers that will be showing off their Fall/Winter 2013 Looks at the BAYFashion CLHS (Coolest Looks & Hottest Styles) 2013 Runway Fashion Show. BAYFashion has put together a lineup of designers from all over the world, diverse in their design philosophies yet very closely tied to each other in their desire for perfection in fashion and ability to execute amazing clothes. There will be a surprise 8th designer (Top American Fashion House) who will also present at the show.
Headlining the show and showing a collection for the FIRST TIME IN THE USA.
BAYFashion presents the Parisian Fashion House of Christophe Guillarme.
One of the youngest and most prolific designers from Paris, Christophe Guillarme's name is synonymous with the Cannes Film Festival where many celebrities wear his amazing creations on the red carpet. Christophe's latest perfume, aptly titled 'Red Carpet' is dedicated to women who are "ultra-feminine" and "contemporary". This will be the first time Christophe will be showing at any show in the USA. For more information please go to: http://www.christopheguillarme.fr/index.php/en/
The next designer to show will be the eminent fashion house of David August by designer David Heil a captain of the clothing industry, who understands the impact of being impeccably dressed for the men who are in a position of significant power. David August has the distinction of being the personal outfitters for some of Hollywood biggest stars and power players like Arnold Schwarzenegger, Sylvester Stallone, Robert Downey Jr. and Aaron Sorkin to name a few. David August is the official formal clothing brand used in the Iron Man movies. Davie Heil's list of fashion accomplishments are long and limitless, but he likes to sum it up in a short quote by Matthew Boulton, "We sell here, Sir, what the world desires to have - Power".
Designer Cory Couture, the next designer on the list needs little introduction in New York (where is based) and Vietnam (where he is from). He was recently featured in Harpers Bazaar Vietnam and is being widely heralded as Vietnam's Alexander McQueen. Cory's designs are made to wow the audience. Each outfit takes 100's of hours to make; all are one of a kind Couture pieces that instantly guarantees 'center of attraction' status to the lady wearing it. His outfits have been worn by Kelly Rowland, Toni Braxton, Brandy, Pussycat Dolls and a lot of Victoria's Secret supermodels.
Felix Rodionov, the next designer on the roster is considered to be one of the top artisan's of leather in the world today. Felix has conquered the Eastern European and middle eastern markets and is ready to launch his brand in the USA. CLHS 2013 is an ideal stage for Felix to show off his amazing collection for Fall/Winter 2013 to the most eminent audience in San Francisco. Check out this video of his show at Tel Aviv Fashion Week.
Joining them on the runway will be the Franciscan couture house of Bacca Da Silva. Bacca who originally hails from Brazil has established himself as San Francisco's eminent couturier with his refined taste and incredible collections that get better every year. Bacca's store on Sutter and Mason in San Francisco is the Mecca for the city's couture loving fashionistas. Most of Bacca's creations are either single piece couture or limited production pieces which always makes the wearer stand out from the crowd. Check his collection out at http://www.baccadasilva.com. Bacca is also one of the presenters of the 'After Fashion Party' which is set to rock the palace hotel after the runway show is over.
The next designer to join this eminent lineup is completely unique in the world of fashion. Heralded by the Huffington Post as one of the most innovative fashion designers from New York. Azin Valy's CITYZEN by AZIN is a lineup of high fashion outfits for the woman who is literally miles above others in her fashion taste. Launched in January 2013, Cityzen by Azin uses satellite imagery of fourteen different cities printed on silk, satin and leather. The shapes of the garments follow the real-life details of the cities, "allowing a river to turn into a strap or a slit, a mountain creating a volumetric neckline, or a road marking a transition in a garment. This is truly unique fashion and BAYFashion is proud to bring her to San Francisco for the first time ever.
The sixth designer to be announced at this time is a designer who grew up in the backyard of San Francisco and got her design inspiration from the exotic land of Puerto Rico. Introducing Maisha Bahati, a master in crafting clothing that give women simplicity without sacrificing sensuality. Maisha has already created a trademark style which is very easily identified with her. Her long evening gowns and extremely well designed (and figure defining) body suits will make everyone stand up and take notice of the fact that she has arrived and she is here to stay. We cannot wait for San Francisco's best to see what she has to offer for Fall 2013.
BAYFashion will be announcing a few more designers who will be showing at CLHS 2013 very soon. This show is going to bring the most amazing and diverse collection of high fashion outfits to San Francisco for the first time in many years.
CLHS 2103 is a BAYFashion Media Event
CLHS 2013 will take place on the 3rd of May 2013
More Information and continuous updates at http://www.bayfashionmag.com/clhs2013
For Booking Rooms at the Palace Hotel
Call: 415-512-1111 and Use Code "Lamborghini - BAYFashion - Show" to get special rates
Press Contact:
Kelly Jackson
kelly(at)bayfashionmag(dot)com
Designers' Contact:
Ylevol Tam Nguyen or Shankha Goswami
ylevol(at)bayfashionmag(dot)com
or shankha(at)bayfashionmag(dot)com
415-349-0672
For Sponsoring and Partnering Opportunities:
Chris Rojas
rojas(at)bayfashionmag(dot)com
or sales(at)bayfashionmag(dot)com
415-283-5000
Main Sponsors: Lamborghini and Palace Hotels (A Luxury Collection Hotel)
Co Sponsors: Roche Bobbois, Caifornia Closets, Define Wine & Moreno BHLV, Marinello Schools of Beauty & The Aveda Institute.
About BAYFashion Media:
BAYFashion Media is San Francisco's premiere pure fashion publication and online portal. Its a Silicon Valley start-up formed by Technology Gurus and Fashionistas and commands over 50,000 readers per issue of the magazine. They are the predominant force for fashion in the social sphere of the San Francisco Bay Area with #1 Ranking in Google for 'San Francisco Fashion' , 'San Francisco Fashion Magazine', and #6 in the World as 'Fashion Magazine' and other fashion-related search terms. We have over 40,000 Facebook fans and we have over 2,000 people talking about the magazine socially on an average. Our Facebook reach is over 75,000 per week and website registers over 1 million hits per month. The main demographic is the 24-48 year old female from San Francisco Bay, LA, San Diego, NYC , Paris & Istanbul. Their motto is 'Bring San Francisco Fashion to the World and a World of Fashion to San Francisco' and they work with partners like Ferrari, Lamborghini, Morgan Hotels, Anheuser Busch, Starwood Hotels, Luxury Collection & international fashion brands like Jean Paul Gaultier, Givenchy, Guerlain, Zuhair Murad, Julien Furne and many others. The aim of the magazine is to put San Francisco back on the international fashion map as a prominent source of fashion inspiration and commercial fashion business