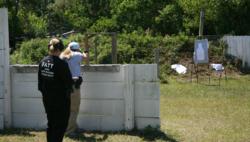 Orange Beach, AL (PRWEB) April 23, 2013
Females in law enforcement and active-duty military from Northwest Florida and South Alabama are invited to attend the Advanced Female Tactical Training session May 13-15 in Pensacola, Fla.
Columbia Southern University, an online university based in Orange Beach, Ala., is sponsoring workshops on armed training at the Escambia County (Fla.) Sheriff's Office Training Center, 1190 W. Leonard St., and the firing range located at 13006 Beulah Road in Cantonment.
Instructors Amy Foster and Dorcia Meador, who are veteran instructors in law enforcement, will again teach defensive tactics and firearm precision as this is their third AFTT session with CSU. The session will address armed situations, firearms skills and defensive techniques used in the field such as ground control.
CSU student and returning participant Karen Bray is excited about working with Foster and Meador again.
"In the previous AFTT class I attended, I enjoyed the comfortable learning environment, being surrounded by fellow female officers," said Bray, a deputy with Escambia County. "The female instructors eliminated the intimidation factor and enabled me to stay more focused throughout the training."
Bray added, "I decided to attend the May classes to have the opportunity to participate in one of the best classes offered to law enforcement. I am looking forward to retaining even more information that the instructors have to offer and sharpening some of the skills that I previously learned from AFTT classes."
The costs of the AFTT is $350 for basic registration and $325 for CSU students, alumni and CSU learning partners. To register, please visit http://www.columbiasouthern.edu/About-CSU/CSUNews/Events/2013-5-13-AFTT. For more information, contact Jessica Black at jessica.black(at)columbiasouthern(dot)edu or Laurie Coleman at laurie.coleman(at)columbiasouthern(dot)edu.
Columbia Southern University is one of the nation's top online universities that offers online associate, bachelor's, master's and doctorate degrees in many fields including criminal justice, organizational leadership, business administration, public administration, occupational safety and health. Visit http://www.ColumbiaSouthern.edu to see a complete listing of our online degree programs.