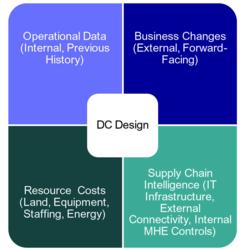 Raleigh, NC (PRWEB) April 23, 2013
Distribution center (DC) and material handling equipment (MHE) design must be flexible to meet the challenges of today's changing business climate, according to a new paper by Tompkins Supply Chain Consortium.
The New Rules of Material Handling in the Distribution Center paper notes that businesses can no longer assume stability when conducting strategic and financial planning.
"The financial climate is spurring more companies to cut inventories by moving to demand-driven supply chains," says Paul Faber, Principal at Tompkins International and co-author of the paper. "At the same time, Internet commerce is increasingly disruptive to traditional business models and supply chain strategies."
The demand for an adaptive, flexible DC also requires new MHE design and information technology (IT) architecture. Sensitivity analysis, modeling, and scenario planning can provide new insights, which in turn affect design and architecture within a warehouse.
New adaptive material handling IT systems can help to "future-proof" DCs, such as full-featured warehouse control systems (WCS) that provide real-time data access and system intelligence.
Chris Ferrell, Director of the Tompkins Supply Chain Consortium and co-author of the paper, says DCs need to think long-term and not get hung up on sunk costs.
"A successful DC is the result of strategic thinking, a well-rounded focus on the entire supply chain, and a systematic challenge to dated concepts about DC hardware and IT application architecture," he says.
To learn more about how new business realities are affecting DC design methodology, read the full paper here.
About Tompkins Supply Chain Consortium
Tompkins Supply Chain Consortium is the premier source for supply chain benchmarking and best practices knowledge. With more than 350 participating retail, manufacturing and wholesale/distribution companies, the Consortium sponsors a comprehensive repository of over 10,000 data points complemented by search capabilities, online analysis tools, topic forums and peer networking for supply chain executives and practitioners. The Consortium is led by the needs of its membership and an Advisory Board that includes executives from Domino's Pizza, GlaxoSmithKline, Hallmark, Ingram Micro, Kane is Able, Miller-Coors, The Coca-Cola Company, Target and University of Wisconsin. To learn more about how your company can become a member of the Supply Chain Consortium, contact John Foley, 919-855-5461 or visit http://www.supplychainconsortium.com
Connect with Tompkins Supply Chain Consortium: http://www.supplychainconsortium.com/rc/connections.asp