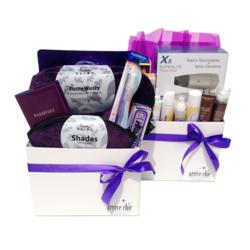 Every mother is always on the go and these unique gift sets prepare her to look her best whether she's traveling around town or seeing the world.
Miami, FL (PRWEB) April 30, 2013
Arrive Chic, the most fashion-forward travel accessories e-boutique, is proud to introduce a new line of unique gifts and travel gift sets just in time for Mother's Day. The beautiful, unique gift sets and individual gifts are perfect for any stylish traveler or woman on the go. Arrive Chic is offering free ground shipping on orders of $150 or more.
"Every mother is always on the go and these unique gift sets prepare her to look her best whether she's traveling around town or seeing the world," says owner Ashley Vaccarino.
The new travel gift sets include necessities and luxuries all meant to add comfort and style to life's adventures.
The Hair Obsessed Set includes: X5 Superlite Travel 7010 Hairdryer, The Mason Pearson Pocket Boar Bristle & Nylon Hair Brush, and all Travel Size Oscar Blandi Products including Hair Lift Serum, Lacca Travel Hairspray, Jasmine Oil Hair Serum, Pronto Dry Shampoo Spray, Pronto Invisible Dry Shampoo Spray, Pronto Instant Glossing Cream and Pronto Dry Shampoo Powder $200
Metallic Luggage Tags & Passport Holder Set by Graphic Image in Silver $105
The Purple En Route Set includes the Bucky Fuzzy Wuzzy Travel Pillow, Bucky Fun Fur Eye Shades with earplugs, Purple Patent Leather Passport Cover, Marvis Toothpaste in Jasmine Mint, & Elgydium Classic Purple Toothbrush $85
The Shoe Bag Set with Pink Ruffle Shoe Bag and Black & White Octagon Print Shoe Bag $52
The Beauty Basics Set with travel size Tweezerman Zip Nail File, travel size Supergoop! SPF 40 Sunscreen, & travel size Marvis Toothpaste $25
For those looking for a single gift item, Arrive Chic is also offering:
Jequitiba Leaf Necklace $110
Royce Leather Collection Passport Travel Wallet in Wildberry/Carnation Pink $75
Hanging Gold Tube Earrings $44
Zig Zag Green Crinkle Jewelry Scarf $24
For more information or to purchase a Mother's Day Travel Gift Set, visit ArriveChic.com.
About Arrive Chic
Arrive Chic (http://arrivechic.com) was born to provide one-stop online shopping for fashion-forward jet-setters. With a buying background from Barneys New York and Saks Fifth Avenue, and a fully stamped passport, owner Ashley Vaccarino saw this business as her calling. Arrive Chic offers designer travel bags from top designers including Trina Turk, Felix Rey and Jonathan Adler. Unlike many other travel goods websites, Arrive Chic offers only stylish travel products, as they believe form is just as important as function. Travel handbags and accessories are obvious must-haves for any trip; but the true traveling diva needs to look fabulous head to toe, no matter where she is. Therefore, they also offer travel-friendly jewelry, beauty products, and (arriving soon) comfortable and chic shoes and clothing.