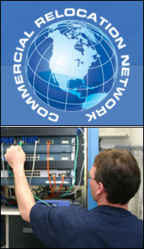 Seattle, WA (PRWEB) April 25, 2013
Moving services company Commercial Relocation Network offers business relocation with their new phased office move. Known as CRN, the company can make sure businesses keep operating -- even during a move.
In order to make business moves go as smoothly as possible, it's best to use phased office moves. This allows clients to keep business flowing, while keeping the move happening. The phased move comes in three stages: pre-move prep, office relocation, and post move setup. During the pre-move, we pack the common areas, disconnect the furniture and load as many of the electronics as possible. During the relocation stage it can be shuttle crews or simply load-and-go.
For businesses that want to keep going during their move, the shuttle strategy works best. During the post-move setup, a small team of movers make sure everything is in its correct spot and that all the equipment is set up in such a way that it can begin working right away. CRN will even "hang pictures, dry erase boards and flat screen TVs" during this step.
Other business relocation services offered by CRN include computer moves, packing services, recycling, installation, and lift and lay moves. They can move a variety of commercial and industrial businesses, including data centers, healthcare facilities and offices.
About Commercial Relocation Network
The Commercial Relocation Network (CRN) is a high-quality moving services company. They offer competitive industrial and office relocation services to companies across the country, and they are committed to assisting businesses with their move. With their help, companies can move -- safely, securely and quickly. Building off the core values of Expertise, Creativity, Access and Integrity, CRN wants to make your next industrial or commercial move a breeze. For additional information please visit, http://www.officemovingcrn.com/.