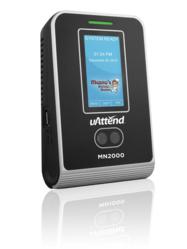 This high-tech time tracking solution enables businesses the ability to accurately record employee work hours in an effective and user-friendly manner.
Carlsbad, California (Apr 2013) (PRWEB) April 25, 2013
Processing Point, Inc., maker of the uAttend™ Employee Management System and one of the leaders in time and attendance solutions, has released a facial recognition time tracking software system built for the assembly and heavy metal industry. The uAttend MN2000 is the most recent addition to Processing Point's highly successful biometric product line.
Facial recognition time clocks, such as the MN2000, are the most hygienic and sanitary means for employees to mark their attendance. Facial recognition technology allows for hands-free time recording and a clean "punch" environment. This means companies can now accurately record their employee work hours and prevent the spread of germs with uAttend's MN2000. In addition to presenting a more sterile way to punch in and out, the MN2000 also solves challenges associated with unreadable fingerprints, which can be the case in certain fields.
"Manufacturing employees such as fabricators and welders can sometimes have unreadable fingerprints as a result of coming into contact with heavy metals and grime," said Steve Wells, director of technical services at Processing Point. "As a result, it can be difficult to match the scanned prints with the stored fingerprint templates and accurately identify the employee. This is actually a rare occurrence, but is never a concern when facial recognition technology is being used."
Biometric time and attendance solutions, such facial recognition, are also ideal for any business looking to combat wage fraud and time theft. While employers always have the option of using RFID reading devices, the time and attendance data collected through these is not as accurate as when collected through a biometric device. Employees can easily engage in wage fraud activities such as buddy punching with RFID workforce management systems. This is not so with biometric attendance systems.
The MN2000 employs state-of-the-art facial recognition firmware to authenticate employee identity. Once you have enrolled an employee, he or she can "punch" in and out by staring at the clock's scan box. This high-tech time tracking solution enables businesses the ability to accurately record employee work hours in an effective and easy to use manner. With its facial recognition requirement, employees have no need to come into contact with the device, which makes the uAttend MN2000 the most hygienic time and attendance tracking solution available today.
The MN2000 allows storage for up to 200 employee records in its facial recognition database, with an unlimited number of employees allowed to use the RFID card reader or PIN pad. Priced under $300, the MN2000 is by far one of the most cost-effective facial recognition time tracking software systems available and features a lifetime guarantee, which is something many other employee management solution providers do not offer.
For more information about the uAttend MN2000, or any other uAttend time clock or time tracking service, please call 800-518-8925 or visit the corporate Website at http://www.uattend.com.