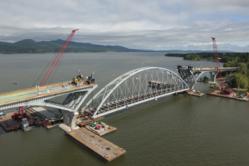 Crown Point, New York (PRWEB) April 24, 2013
HNTB Corporation earned national recognition from the American Council of Engineering Companies with a Grand Award for the design of the Lake Champlain Bridge replacement project between Crown Point, N.Y., and Chimney Point, Vt. Receiving a Grand Award places the project among the top eight in this year's competition, which included 146 entries from across the country.
The Lake Champlain Bridge is a primary connection between New York and Vermont. The bridge closed unexpectedly in 2009 due to the discovery of severe deterioration below the water level and was subsequently demolished. A new replacement bridge (2,200 feet long with eight spans, including bridge approach roadways) was constructed at the same location and opened to traffic in November 2011.
Determined to reconnect the two communities served by the closure of the bridge, HNTB designed the replacement in just 10 weeks. The modified network tied arch bridge, created for maximum constructability, features a center arch span that was built off-site at the same time the approaches were being constructed. The center arch span was floated in, lifted 75 feet and attached on August 26, 2011 – two years to the day after preliminary engineering began.
HNTB also was recognized earlier this month by ACEC New York during its 46th Annual Engineering Excellence Award Gala, receiving a Diamond Award for the Lake Champlain Bridge replacement project in the transportation category. Both the national and regional awards programs recognize engineering firms for projects that demonstrate a high degree of achievement, value and ingenuity.
About ACEC
The American Council of Engineering Companies is the business association of America's engineering industry, representing approximately 5,500 independent engineering companies throughout the United States engaged in the development of America's transportation, environmental, industrial and other infrastructure. Founded in 1909 and headquartered in Washington, D.C., ACEC is a national federation of 51 state and regional organizations.
About HNTB
HNTB Corporation is an employee-owned infrastructure solutions firm serving public and private owners and construction contractors. With nearly a century of service, HNTB understands the life cycle of infrastructure and addresses clients' most complex technical, financial and operational challenges. Professionals nationwide deliver a full range of infrastructure-related services, including award-winning planning, design, program delivery and construction management. For more information, visit http://www.hntb.com.
# # #
EDITOR'S NOTE: For more information on the Lake Champlain Bridge replacement project, you can review an interactive Designer magazine cover story from HNTB here: http://www.hntb.com/sites/default/files/Designer97_Digital.pdf.