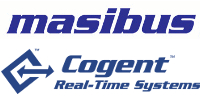 The Cogent DataHub can serve as a valuable tool in solving the integration challenges that our customers regularly face.
Georgetown, Ontario (PRWEB) April 26, 2013
Building on a successful relationship in the United Arab Emirates, Cogent Real-Time Systems announces that Masibus Automation and Instrumentation Pvt. Ltd. in Gujarat, India will now provide sales and technical support for the Cogent DataHub®, DataHub WebView®, and related software for the subcontinent of India.
"Our product team is very impressed with the capabilities of the Cogent DataHub," said K. Subramaniam, Managing Director of Masibus. "Extending the partnership here to our home office in India is the next logical step. The Cogent DataHub can serve as a valuable tool in solving the integration challenges that our customers regularly face."
"We are pleased to see how Masibus has moved forward to promote and support the Cogent DataHub and DataHub WebView in the UAE," said Andrew Thomas, President of Cogent, "and we expect they will do equally well in India. There is a strong and growing demand for high-quality automation products in that country that the Cogent DataHub can meet."
"Masibus has been providing the steel, energy, and manufacturing industries of India with automation and control solutions for the last three decades," said Mr. Devang Kachhiya, Business Manager at Masibus. "The Cogent DataHub fills a need to integrate OPC-enabled systems in real time. We see the OPC tunnelling, data logging, and web HMI features to be particularly popular."
The Cogent DataHub provides quick, reliable, and secure access to valuable information direct from industrial processes or embedded systems. DataHub WebView is a Silverlight application that runs in a web browser, allowing users to access data from anywhere on the Internet. Used together, the two products support a new type of real-time infrastructure for industrial data integration and cloud computing.
Headquartered in Gandhinagar, Gujarat, India since 1991, Masibus offers industrial automation & instrumentation solutions to customers within the country and across the globe. Recognized as one of the premier industrial automation solution providers, Masibus has close to 10,000 customers in about 50 vertical industrial segments, offering products, solutions and services through 10 regional offices and a wide network of dealers and system integrators.
Cogent Real-Time Systems Inc. is a wholly-owned subsidiary of Skkynet Cloud Systems, Inc. ("Skkynet") (OTC.BB:SKKY). Founded in 1995, Cogent provides proven middleware products to enable real-time data integration and distribution for industrial, embedded, and financial systems. Customers include Siemens, ABB, Honeywell, IBM, GE, Statoil, Goodyear, BASF, Cadbury Chocolate, and the Bank of Canada.
Skkynet Cloud Systems, Inc. is a leading developer of software and related systems and facilities for collecting, processing and distributing real-time information over networks. This capability allows clients to both locally and remotely manage, supervise and control industrial processes, financial information systems, and embedded devices. Through Cogent's web-based assets, DataHub® Webview™ enables data connectivity and visualization over the cloud, providing clients and their customers the necessary ability and tools to observe and interact with these processes and services in real time, empowering them to fully control their systems and analyze their data.
DataHub® and WebView™ are either registered trademarks or trademarks used under license by Cogent Real-Time Systems Inc. Silverlight® is a registered trademark of Microsoft Corporation. Other products and company names mentioned herein may be trademarks and/or service marks of their respective owners.
Safe Harbor Statement: This news release contains "forward-looking statements" as that term is defined in Section 27A of the United States Securities Act of 1933, as amended and Section 21E of the Securities Exchange Act of 1934, as amended. These forward-looking statements generally can be identified by phrases such as Skkynet Cloud System, Inc. or its management "believes," "expects," "anticipates," "foresees," "forecasts," "estimates" or other words or phrases of similar import. Similarly, statements herein that describe the Company's business strategy, outlook, objectives, plans, intentions or goals also are forward-looking statements. All such forward-looking statements are subject to certain risks and uncertainties that could cause actual results to differ materially from those in forward-looking statements.