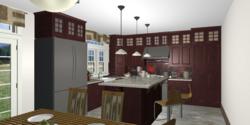 Having professional advice along the way can save both time and money during an interior design project
Riverside, IL (PRWEB) April 26, 2013
Maura Braun's ability to weave her design ideas into the lives and lifestyles of her clients have made her a sought after designer. Here are a few of her tips on overcoming common Interior Design Mistakes:
1 Furniture scale. Furniture pieces too large (or too small) for a space.
Before buying that piece that you have fallen in love with, measure the piece and put a piece of cardboard with the same "footprint," or better yet, a cardboard box of approximately the same dimensions, in the space. If the space seems overwhelmed by the item, or seems lost in it, rethink the purchase.
2 Clashing colors.
The overall ambience of a room can be ruined by the wrong paint color. Local paint stores often have designers on staff who can help with color selections. Or consider hiring a professional designer to come in to evaluate the space. The consultation will probably only take an hour or two.
3 Paint color has the wrong tint or tone.
All greens (or blues or even reds) are not the same. The wrong tint (too much white) or tone (too much gray) can completely change how a color will work with the rest of your furnishings. Again, a paint store designer or an interior design consultation may save both time and money.
4 Too much furniture!
How much is too much? Blocking the entry to a room is not only annoying, it might be dangerous. The path of travel to and from a door should be at least 36 inches in a home and 60 inches in an office. If you can't move freely through a room, it might be time to remove items. The room will not only work better, but will feel larger and more spacious.
5 Too many activities
Multi-tasking has become a way of life for many of us. However, just as we get overwhelmed with doing too many tasks at the same time, using one room for multiple activities can make the room feel "off." Return the room to its primary function and the space will become more functional and inviting.
6 Adding a piece that just doesn't "fit" in the room
While your grandmother's heirloom china cabinet has sentimental value, putting it in a prominent location in a contemporary room could ruin the whole design. Finding a location where it will not compete with other pieces, where it can stand out, might make you love the piece even more.
7 Purchasing seating without testing it first
It is important to consider how a seating piece will be used, and by whom. Consider the comfort of the people who will be using the piece and the activities that will be done in the room.
8 Incorrect Lighting
There are three types of lighting: accent, general and task. Using the type of lighting necessary for the activities being done in a room will make that room more comfortable and functional. General lighting will illuminate the room so people don't bump into the furniture. Reading or other close work requires task lighting. Accent lighting can be used as a design feature, highlighting artwork or brightening a dark corner.
9 Plans do not meet building codes.
Any structural changes (moving walls, etc.) done to a building should be reviewed by a professional construction interior designer, architect and/or general contractor familiar with local building codes. This will assure that when the house is sold it will pass a building inspection. It will also assure that the integrity of the structure is maintained, keeping the occupants of the building safe.
10 Starting the project without professional interior design guidance.
Having the advice of a professional may avoid costly and time-consuming mistakes. For simple projects, a short-term relationship with an in-home consultation over a few hours or even a couple of days, may be all that is needed. A design coach can provide support through the life of any project with weekly consultations to keep the project on time and on-budget. On-line design services provide a Master Plan that outlines the entire project with a choice to implement the design on your own or to purchase the items at discounted rates through the designer. Finally, a traditional designer, who provides on-site construction and hands-on design guidance, overseeing the entire project from beginning to end, might be the perfect solution for more ambitious projects.
While a do-it-yourself approach to interior design may seem the more economical option to many homeowners, design mistakes can be costly. Having professional advice along the way may not only save time and money, but will also result in a more functional and beautiful space.