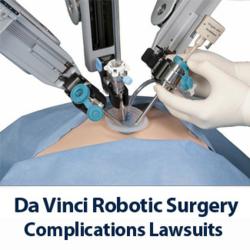 If you or a loved one has been injured by a da Vinci surgical robot contact Wright & Schulte LLC, a leading medical device injury law firm today at 1-888-365-2602 or visit www.yourlegalhelp.com
Dayton, OH (PRWEB) April 29, 2013
The Da Vinci robot lawyers at Wright & Schulte LLC are disturbed by a recent CNBC report that included accounts of serious complications and injuries allegedly associated with the use of the Da Vinci Surgical System. According to the firm, many of the alleged Da Vinci robotic surgery complications detailed by CNBC, including burns and heat related damage to intestines, ureters, bowels and other organs, echo allegations made in a growing number of Da Vinci robot lawsuits pending in courts around the country.
[http://www.cnbc.com/id/100652694
Wright & Schulte LLC is now offering free personal injury lawsuit consultations to victims of alleged Da Vinci robotic surgery complications, including those who suffered:

Tears and/or burns of the intestines
Punctured blood vessels
Punctured and/or cut ureters
Severe bowel injuries
Vaginal cuff dehiscence
Excessive bleeding
Surgical burns
Sepsis
Peritonitis
Death
For more information on filing a Da Vinci surgical robot lawsuit, or to arrange for a free legal consultation, please visit yourlegalhelp.com.
According to Wright & Schulte LLC, Intuitive Surgical's Da Vinci Surgical System is widely used in hysterectomies, prostate removals, heart surgeries, gallbladder removals and bariatric surgery. Proponents of the robot claim it offers patients less bleeding and scarring, as well as shorter recovery times compared to traditional procedures. But the CNBC report detailed a number of patients who allegedly suffered serious Da Vinci robot complications in what should have been routine procedures. In the most tragic incident, a young woman died just 13 days after undergoing a hysterectomy, after she suffered bleeding into her pelvis from a laceration to a main artery. "Blood was flowing from her leg, from between her legs," her father told CNBC. "And two nurses were there around her, catching the blood with a bottle."
According to Wright & Schulte LLC, Intuitive Surgical recently revealed in a filing with the U.S. Securities and Exchange Commission (SEC) that it had been named a defendant in 26 Da Vinci Robot lawsuits. Earlier this month, the first Da Vinci robot lawsuit trial in the nation opened in Washington State, as the family of a man who died of alleged Da Vinci surgery complications claimed his injuries were the result of Intuitive Surgical's inadequate training program for physicians. According to Bloomberg.com, emails disclosed ahead of the trial suggest the company's salesmen lobbied hospitals to scale back doctor training. In another, a manager told a sales team not to "let proctoring or credentialing get in the way" of meeting goals on the number of robot surgeries. (Estate of Fred E. Taylor v. Intuitive Surgical Inc., 09-2-03136-5, Superior Court, State of Washington, Kitsap County)
[sec.gov/Archives/edgar/data/1035267/000119312513162385/d508282d10q.htm]
[bloomberg.com/news/2013-03-21/intuitive-robosurgery-training-seen-lacking-in-lawsuits.html]
According to Wright & Schulte LLC, robotic surgery has become the subject of growing controversy in recent monts. Last month, the American College of Gynecologists (ACOG) advised its members that robotic-assisted hysterectomy should not be the first choice for most women in need of the procedure. According to a statement issued by the group on March 14th, while robotic surgery may have advances in certain complex hysterectomies, studies have shown that adding this expensive technology for routine surgical care does not improve patient outcomes. The ACOG statement was issued just months after the U.S. Food & Drug Administration launched an investigation of the Da Vinci robot to determine if an increase in Da Vinci robotic surgery complication reports could be a reflection of a real and growing problem.
[acog.org/About_ACOG/News_Room/News_Releases/2013/Statement_on_Robotic_Surgery]
[wsj.com/article/SB10001424127887324662404578332712134965802.html]
About Wright & Schulte LLC
Wright & Schulte LLC, an experienced personal injury firm, is dedicated to the belief that America's legal system should work for the people. Every day, the attorneys of Wright Schulte LLC stand up for the rights of people who have been injured or wronged, and fight tirelessly to ensure that even the world's most powerful corporations take responsibility for their actions. If you're looking for a law firm that will guarantee the aggressive and personal representation you deserve, please do not hesitate to contact Wright & Schulte LLC today. Free case evaluations are available through yourlegalhelp.com, or call 1-800-399-0795.
Contact:
Wright Schulte LLC
812 East National Road
Vandalia, Ohio 45377
1-800-399-0795