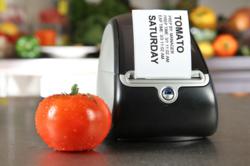 The different inspectors that came to the restaurant didn't have any problems reading our labels.
Palm Bay, FL (PRWEB) April 28, 2013
Innovative Technologies by Design, Inc. (ITD) announces the nationwide launch of their latest food preparation solution, the new Prep-Pal 3™.
AUTOMATED COMMERCIAL KITCHEN LABELING SOLUTION
Prep-Pal 3™ allows any restaurant or foodservice operation to fully automate the labeling process. ITD's state of the art software is completely customizable and stores the food prep list, employee names and shelf lives, making daily prep quick, easy and accurate. The Prep-Pal 3 ™ program calculates expiration dates automatically, eliminating guesswork. Chefs need never waste time double checking a shelf-life chart again!
IMPROVEMENTS INCLUDED IN Prep-Pal 3™

The upgraded Prep-Pal 3™ features:
Customizable software
Prints up to 51 labels per minute
Can Print Custom labels such as, "use first" or "received"
Installs in just minutes
No ink required
Premium-Peel labels eliminate sticky residue on food pans
Requires little to no training
Works on most Point-of-Sale machines and any Windows-based system
BOOST HEALTH DEPARTMENT INSPECTION SCORES
With the Prep-Pal 3™, foodservice managers can stop the laborious and imprecise process of hand writing food prep labels. Custom printed, time-stamped labels will make health inspections go smoothly, and many customers have found that using Prep-Pal 3™ has boosted their inspection scores. The labeling system eliminates human error, reducing restaurants' food waste while ensuring customer safety.
CUSTOMER FEEDBACK
Customers like Yong Jo, an IHOP Owner in Norcross, GA rave: "I decided to buy the Prep-Pal 3™ because of the cost factor and small size of this unit. I have saved money on labels. My expectations were met; Georgia health department is very strict. The different inspectors that came to the restaurant didn't have any problems reading our labels. The benefits are: fast; no messy handwriting, the unit prints clearly; no mistakes on date and time; you can list your products for different regions; It's very easy to take off and clean the plastic containers, no more messy glue residue... I would recommend this unit."
CONTACT US TODAY
Innovative Technologies by Design, Inc. specializes in creating solutions to simplify food safety management. With deep roots in food service and early beginnings as food service managers, the founders of ITD have personally experienced the day-to-day obstacles that occur while trying to deliver safe and delicious food to consumers in an efficient manner. ITD has now helped streamline food prep and safety management in thousands of locations. Major chains such as Subway, Panera Bread, Sonic, and many hospitals and schools trust ITD products to keep their food safe and their consumers happy. To find out more about the Prep-Pal 3™ visit ITD's website at: http://itdfoodsafety.com.
For more information, contact:
Sherman Reeves, Director of Sales
Innovative Technologies by Design, Inc.
4680 Lipscomb Street NE, Suite 1
Palm Bay, FL 32905-2928
P | 321.676.3194
F | 321.674.7018
http://www.itdfoodsafety.com