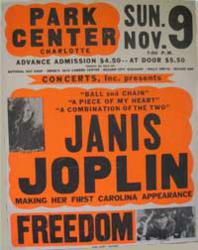 Both Janis Joplin and Jimi Hendrix played Charlotte a year earlier to sold out crowds.
Denver, Colorado (PRWEB) April 28, 2013
Andrew Hawley of Vintage Rock Posters, Inc., announces his search for vintage 1950's and 1960's rock n roll boxing style concert posters from the Charlotte Coliseum and Park Center in Charlotte, North Carolina. Many top acts from the 1950's and 1960's played the Charlotte area including Buddy Holly, Fats Domino, Led Zeppelin, Jimi Hendrix, Janis Joplin, and Pink Floyd. According to Hawley, "Most of the posters used to advertise these shows were printed by the Globe Poster Company out of Baltimore. The posters garish like dayglo colors and a popular promo photo of the band. The posters were hung locally in department stores and barber shops along Tryon street, the main drag in Charlotte."
Hawley continues, "Led Zeppelin played the Charlotte Coliseum in the spring of 1970. Globe produced a dayglo boxing style poster to advertise the show that features cloud like shapes surrounding a promo photo of the band. A few copies of this poster are known to exist. One Globe Zeppelin poster was found in the storage room of a local eatery. It had been stored in the closet since 1970 before finally being salvaged. Both Janis Joplin and Jimi Hendrix played Charlotte a year earlier to sold out crowds. By then Janis had broken up with Big Brother and was out on here own and Hendrix was nearing his final days as a member of the Experience. These posters were made of thick cardboard and measured 22x28 inches in size. About one hundred copies of each poster were printed."
Hawley is willing to pay $3,000 cash for vintage boxing style 1969 to 1970 Led Zeppelin, Janis Joplin or Jimi Hendrix Charlotte Coliseum concert poster or any other vintage 1950's or 1960's Charlotte North Carolina concert posters. Any condition is accepted. Please call 310-346-1965 or email andrew at vintageconcertposterbuyer.com.