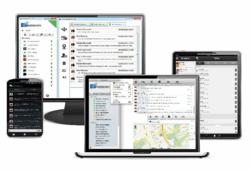 "Instacom...keeps employees accountable, our data under our control, and more importantly our client's sensitive material safe and secure."

Rahim Addetia, Operations Manager at DSM Computing Solutions Inc.
Toronto, Onatrio. Canada (PRWEB) April 30, 2013
The BYOD (Bring Your Own Device) evolution is growing exponentially and everyday more organizations are working on adopting this practice into their corporate computing strategy. Instacom, the most secure communication solution for businesses, recognizes and addresses the security implications of the BYOD evolution. Finally, one platform has combined instant messaging with centralized file sharing and storage across all desktop and mobile devices. With all message and file data living in the end user's corporate IT environment bound with strong security policies and encryption, Instacom is the response to the corporate concerns around BYOD.
How Instacom keeps corporate data safe and secure in the BYOD era:

All data and communication is stored on the organization's servers, no data is stored on the device.
Instacom is "sandboxed" on all mobile devices, so user access can be remotely removed without having physical access to the device itself.
A Centralized Administration Panel controls user's functions and capabilities.
A complete history of all message and file transactions is stored for reporting and searching.
All data shared is encrypted with standard SSL and AES 256 end-to-end encryption.
"As an IT Service Provider, we handle passwords and other sensitive information with our team and field technicians." explains Rahim Addetia, Operations Manager at DSM Computing Solutions Inc. (an outsourced IT service provider in Toronto), "So we have mandated in our corporate communication policy that all employees are to only use Instacom for internal communication. It keeps employees accountable, our data under our control, and more importantly our clients' sensitive information safe and secure."
IT departments no longer have to worry about lost or stolen mobile devices, ex-employees keeping corporate data on their personal device, or the inability to track data on mobile devices. Organizations can now implement a strong MDM (Mobile Device Management) policy that includes a secure communication platform.
About D2M Software Inc.
D2M Software Inc., (Desktop 2 Mobile) developers of Instacom, evolved from an IT service business in Toronto, Canada; that has been providing outsourced IT services to hundreds of clients for over 20 years. We identified the risk of mobile computing and communication with today's technology and addressed this growing risk with Instacom, the ultimate secure communication solution. We believe that organizations all over the world should be able to communicate and collaborate with their internal and external network in a secure environment seamlessly with desktop and mobile devices, while maintaining the MDM regulations and compliance standards of their organization.
Our development team and support is all in-house in Toronto, Canada. We support our homegrown talent and do not source any development overseas. Our focus on the combination of strategic technological methods, end user experience and value has allowed us to create award-winning solutions used all over the world.