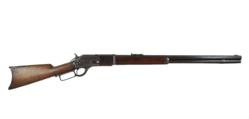 The Dalton's were responsible for the first California Train Robbery, and this Rifle, the 76 was a part of that period of the Dalton Gang.
Ventura, California (PRWEB) April 28, 2013
A historic Dalton Gang 1876 Winchester Rifle will be sold Sunday, May 5th, 2013 at California Auctioneers Ventura, California.
Confiscated from Bill Dalton by Sheriff E. W. Kay when Kay arrested him after the Ceres Train robbery attempt in California, 1891.
A new documentary produced by the the Auction House California Auctioneers LLC and Red Sky Production is available on their website or http://youtu.be/32gchqkmxKI.
The chain of custody passed from Sheriff Kay to California historian and author of the Dalton Gang Days Frank S. Latta, to the current owner. This one of a kind firearm is a true Wild West relic and a part of California history. The auction is titled East meets West and includes collections of fine Asian objects, antique firearms such as a one-of-a-kind Colt 1873 SAA Pinch frame SN #154, Native American, Western, Ethnographic, American antiques & collectables, jewelry and more.
The Auction will be live in house and broadcast live online.
805-649-2686 http://www.calauctioneers.com