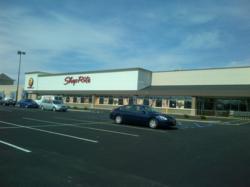 Albany, NY (PRWEB) April 29, 2013
A new survey just released by the Albany Times Union ranks ShopRite Supermarkets as the top retail workplace in the Capital Region, and second overall among all companies with more than 500 employees in the area.
The Times Union officially announced the results of their annual "Top Workplaces" survey on Sunday, April 21, 2013, just two weeks after ShopRite held the grand opening of its new Colonie location – the chain's fourth store to open in the past 18 months.
In conducting their survey, the Times Union and their project partner, Workplace Dynamics, invited companies with at least 35 workers in the Capital Region to have their employees grade their workplace. The employers were then ranked based solely on the employee responses received through the survey. Combined, the companies surveyed employ nearly 15,000 people in the Capital Region.
Tom Urtz, ShopRite Supermarkets Vice President of Human Resources and Community Affairs, said, "ShopRite is humbled and proud to have been named as the top retail workplace in the Capital Region and we will wear this designation as a badge of honor, but it is because of our fantastic team of Capital Region employees that ShopRite is a great place to work. Their dedication to our customers and each other is second to none and they deserve all the credit."
ShopRite, which is the only unionized supermarket in the region, also received special recognition as the "Standout Performer," in the category of Managers.
According to the Times Union, ShopRite employees cited flexible scheduling, a family atmosphere, opportunities for growth and a strong sense of purpose among the reasons they enjoyed working for the company. Employees also pointed to the store's policy of providing them with free CDTA bus passes, which can be used to get to work or other destinations.
The four area ShopRite stores are owned and operated by ShopRite Supermarkets, Inc. (SRS), a wholly owned subsidiary of Wakefern Food Corp., the largest supermarket cooperative in the United States. SRS also operates 28 other ShopRite stores in New York.
"The Capital Region has greeted the return of ShopRite with open arms, both in terms of support among area shoppers, and the fantastic team of employees we have been able to hire," Urtz said. "We couldn't be more optimistic about our future."
The Times Union Top Workplace Report is online at http://www.timesunion.com/topworkplaces/.
# # #
About ShopRite
ShopRite is the registered trademark of Wakefern Food Corp., a retailer-owned cooperative, based in Keasbey, NJ and the largest supermarket cooperative in the United States. With nearly 250 ShopRite supermarkets located throughout New Jersey, New York, Pennsylvania, Connecticut, Delaware and Maryland, ShopRite serves more than five million customers each week. A long-time supporter of key community efforts, ShopRite is dedicated to fighting hunger in the communities it serves. Through its ShopRite Partners In Caring program, ShopRite has donated $29 million to 1,700 worthy charities and food banks since the program began in 1999. As a title sponsor of the LPGA's ShopRite Classic, ShopRite has raised more than $24 million for local schools, hospitals and community groups. Progressive Grocer named ShopRite its 2011 Retailer of the Year and Supermarket News awarded ShopRite its 2011 Retail Excellence Award. For more information, please visit http://www.ShopRite.com.
About Wakefern Food Corp.
From a small, struggling cooperative with eight members – all owners of their own grocery stores – Wakefern Food Corp. has grown into the largest retailer-owned cooperative in the United States. Founded in 1946, the cooperative is comprised of 48 members who today individually own and operate nearly 250 supermarkets under the ShopRite banner in New Jersey, New York, Connecticut, Pennsylvania, Maryland and Delaware. In 1996, Wakefern introduced PriceRite stores, extending the company's reach into Rhode Island and Massachusetts. Today, there are 51 PriceRite stores in six states. As the merchandising and distribution arm of both ShopRite and PriceRite, Wakefern, together with its member companies, employ more than 50,000 people; making it one of the largest employers in New Jersey. In addition, Wakefern also distributes products to other supermarkets throughout the northeastern United States and Bermuda. Wakefern was recently named one of the Best Places to Work in NJ by NJBIZ Magazine. In 2011, Supermarket News gave Wakefern its Retail Excellence Award and The Griffin Report named Wakefern its Retailer of the Year. For more information, please visit http://www.Wakefern.com.