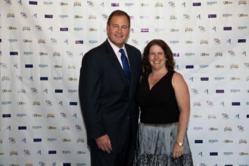 Paterson, New Jersey (PRWEB) April 29, 2013
Recognizing the sincere desire of McGraw clients, employees, partners, and leadership to lend ongoing support to a variety of charities in their honorable pursuits, several years ago, McGraw Communications established a program called McGraw Gives Back. For the second year in a row, McGraw Communications is partnering with Eva's Village, a non-profit comprehensive social service organization located in Paterson, NJ, to support its valuable initiatives at the exclusive "Behind the Seams" fashion show.
McGraw Communications has renewed its Presenting (Tent) Sponsorship this year at the 4th Annual "Behind the Seams" fashion show, featuring The Robert Graham collection (currently available at Sal Lauretta's) and Hartlys. The event will be held on May 20th from 6:00 to 10:00 pm at Bottagra Restaurant, located at 80 Wagaraw Road in Hawthorne, NJ. This event will help support the many wide-ranging anti-poverty programs at Eva's Village, whose mission is to feed the hungry, shelter the homeless, treat the addicted, and provide medical care to the poor with respect for the human dignity of each individual.
In addition to being the "Behind the Seams" Presenting Sponsor, McGraw is offering routes for others to give back to Eva's Village via their own businesses. If your business is interested, McGraw's team will consult with you to see how they can help your business maximize efficiency and bring the best solutions to you in light of your specific business needs and priorities. If your business qualifies, McGraw will donate $100 to Eva's Village just for meeting with them to discuss your services. Then, once you become a client, McGraw Communications will donate 5% of your monthly voice/data/IP spend procured through McGraw to Eva's Village to support its valuable programs. "It is our sincere pleasure to be supporting Eva's Village at Behind the Seams," said Frank Ahearn, McGraw's CEO. "Over the past several years, we've gotten to know the Eva's Village team well and they continue to inspire us with their passion for what they do. We feel privileged to be able to support their efforts and look forward to another great show this May."
For more information about the McGraw Gives Back program, along with the qualifying details, just contact Deana Szymanski, Premier Account Manager, at 212-849-2249.
For information about the "Behind the Seams" fashion show or to make reservations, call Joe Mazza at 973-523-6220 ext. 235.
About McGraw Communications:
Since 1996, McGraw Communications has been delivering reliable and cost-effective communications solutions, real value and unrivaled service and support to business customers globally. A Fortune 5000 company for four consecutive years, McGraw is privately held, customer focused, profitable, innovative, and debt free. McGraw's ability to deliver best of breed services seamlessly, coupled with its skilled and responsive personnel, have produced one of the highest customer retention rates in the telecommunications industry.
About Eva's Village:
Founded by Msgr. Vincent E. Puma in 1982 as a response to the poor and homeless in Paterson, NJ, Eva's Village is a non-profit comprehensive social service organization. Through three decades of service, Eva's Village has established a unique record in facing community challenges and changing the lives of the hungry, homeless and addicted. It has grown from a simple soup kitchen to become the most respected anti-poverty program in New Jersey. Eva's Village now includes fourteen integrated programs housed in numerous buildings spanning several city blocks in Downtown Paterson.