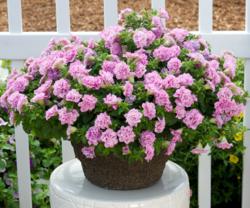 Don't be afraid to use a grab-and-go hanging basket as a quick fix for a jolt of color to liven up blank spots in a garden bed – or on your patio.
Tokyo, Japan (PRWEB) April 30, 2013
When thinking of dressing up living rooms, one of the first go to accessories are throw pillows. They're easy, inexpensive, add a splash of color, dress up a drab couch, and tie the whole room together without doing a complete makeover.
The same is true in the garden or on the patio with vibrant flowers from The Suntory Collection. Give outdoor spaces the same attention and accessorize to create gorgeous spots of vibrant colors – all ready to wear at your local garden center all season long!
Professional garden designer and lifestyle expert, James Farmer has a few hot tips to make the summer patio sizzle. Author of A Time to Plant, a Wall Street Journal best seller, Farmer specializes in landscape, floral and interior design along with gardening and cooking.
"I think of annuals as easy accessories to dress up any outdoor space. Summer flowers require little care other than water and, if you choose, pinching off dead blooms in the summer. That's it for blooms straight through to fall," says Farmer, an editor-at-large for Southern Living.
This season Farmer says its easy to transform the patio, deck, porch or balcony into a colorful paradise with The Suntory® Collection of "top-shelf," beautiful, and long-lasting annuals.
Flowers are the New Throw Pillows
"Don't be afraid to use a grab-and-go hanging basket as a quick fix for a jolt of color to liven up blank spots in a garden bed – or on your patio," says Farmer. "Just pop the flowers out of the hanging basket and drop into an empty space in your garden or container."
He recommends the popular Million Bells® Calibrachoas for their profuse blooms and low-maintenance. They come in a variety of colors from vibrant deep blue to bright magenta and can be found in hanging baskets at your local retailer. "Just pop the white or light yellow Million Bells into a tall urn for an instant elegant look."
A Few Color Tips
For maximum impact, Farmer suggests going bold with one flower color. New this year and a favorite pick by Better Homes and Gardens are Surfinia® Summer Double Petunias.
The bold, fat blooms of rose-like double flowers come in rose, pink, and white. Plus, unlike most petunias, they offer extraordinary heat and rain tolerance.
Farmer advises creating a theme with containers. Bold azure blue pots or classic iron urns can be repeated throughout outdoor spaces on porches and patios. Matching beds and pots full of bright seasonal color create a polished look. If red is your color of choice, try Sun Parasol® mandevillas, which come in several hues of red. Natural climbers, these easy-to-grow mandevillas are stunners trained to a trellis or obelisk in a patio pot.
Try Before Buying
If worried about getting it wrong or just want to see what the garden bed or container would look like before you commit, consider using a virtual designer. Suntory has two free garden design tools -- one for garden beds and one for containers - that take the guesswork out of dressing up any space. The Virtual Garden Designer is fun and easy to experiment with on your computer. Just pick your flowers from an array of collections, then drag them into the landscape to create a garden that will make your neighbors green with envy.
The Virtual Container Designer can be used online – or on the Android or iPhone so you can easily create and design your own pots while at the garden center before you buy! Find it online at http://suntorycollection.com/popup/design_it_yourself.html
Remember, the local garden center is filled to the brim this time of year with colorful blooms that will breathe new life into the bare spots both in your garden and patio, leaving a lush and polished look that will last all season long!
To learn more about The Suntory Collection of beautiful flowers, visit http://www.suntorycollection.com.