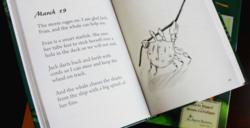 Students learn best when their individual learning style is supported in their reading program.
Eagle River, WI (PRWEB) April 29, 2013
For a child who struggles with reading, finding the motivation to read can be a difficult task. Some reading programs do not provide sufficient support for varying learning styles, and material is often presented in an uninteresting format. If children do not receive the reading instruction necessary to become fluent readers, they subsequently lack the motivation needed to inspire a love of reading.
All About Reading is a research-based Orton-Gillingham influenced program that uses multisensory lessons to teach reading sequentially and incrementally. The method utilizes a cumulative approach by integrating constant review of previously-taught concepts, and also provides explicit and straightforward teaching that eliminates student guesswork.
Author and curriculum developer Marie Rippel offers these tips for motivating your child to read:
1. Make sure that your reading program isn't dry and boring. All About Reading offers a wide variety of illustrated learning activities including games, comprehension-building exercises, and fluency practice sheets—all specifically designed to help students to become fluent readers.
2. Surround your child with reading. Let your child observe the different ways that reading helps you in your day-to-day life. For instance, as you bake cookies together, read the recipe aloud. As you plant seeds in the garden, read aloud from the back of the seed packet. As you scan the newspaper or flip through a magazine, select short, age-appropriate pieces to read aloud to your family. These little glimpses into your own reading material can be an effective way to foster a child's motivation to read.
3. Give your student a feeling of success. Rather than frustrating your child with reading material that is too difficult, provide interesting decodable books that make reading easily achievable for your child. All of the professionally-illustrated readers in the All About Reading program are 100% decodable, meaning that your child won't stumble over unfamiliar concepts or words that have not yet been taught.
4. Pursue your child's interests. Encourage your child's enthusiasm for reading by guiding him or her to books and reading material that pertain to a specific area of interest. If your child is fascinated by outer space, provide books about the solar system, planets, stars, and the moon. If your child loves animals, explore books about horses, tigers, dogs, elephants, grizzly bears, and more.
5. Use a reading program that supports different learning styles. All About Reading teaches through sight, sound, and touch and the lessons involve all the major pathways to the brain: visual, auditory, and kinesthetic. Students learn best when their individual learning style is supported in their reading program.
The All About Reading program is highly individualized, which guarantees that the student always makes progress without forgetting what has been previously taught. In addition to being a phonogram-based program, All About Reading also covers these five important areas:
1. Phonological Awareness
2. Phonics and Decoding
3. Vocabulary
4. Fluency
5. Reading Comprehension
Published by All About Learning Press, Inc., this award-winning program comes with lifetime support and a 100 percent money-back guarantee. The "Open and Go" lesson plans are lightly scripted and do not require previous teaching experience.
For more information on All About Reading, visit http://www.allaboutlearningpress.com/.