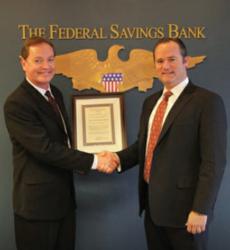 A stellar score ranges from 760 to 850 and can give you greater negotiating power over the terms of the mortgage and ultimately, the total cost of the loan
Chicago, IL (PRWEB) April 27, 2013
When an individual is looking into their options when applying for a mortgage loan, they want the process to be as stress-free as possible. The Federal Savings Bank believes borrowers should be informed and prepared before applying for a mortgage, as the process can be complicated at times. To better prepare themselves, borrowers can educate themselves on some of the rules before meeting with a mortgage professional, which will most likely help the process run much smoother.
One thing to consider before applying for a mortgage is the borrower's credit score situation. According to the AP, bad borrower behavior such as late credit card or loan payments might be a deterrent for a borrower to be able to obtain the loan. Since most banks sell their home loans to government-backed corporations such as Fannie Mae and Freddie Mac, lenders have to adhere to a certain criteria.
"Loans backed by the Federal Housing Administration will accept FICO scores below 600, but expect to pay a significantly higher interest rate the lower your score," the AP reported. "A stellar score ranges from 760 to 850 and can give you greater negotiating power over the terms of the mortgage and ultimately, the total cost of the loan."
What to do if credit isn't up to par
If the individuals credit isn't in the best shape it can be, there are definitely other options available. According to the AP, the borrower might be able to qualify for an FHA-backed loan, which has significantly benefited millions of people over the past few decades. One of the demographics the loans have proven to be most valuable to are first-time homebuyers. The FHA only requires borrowers to put as little as 3.5 percent down on their purchase price, which is much lower than any standard loan requirements.
A lot of borrowers looked toward the FHA during the housing crisis. The agency's share of the mortgage market was only about 3 percent between 2005 and 2006. According to the Home Buying Institute, the agency's market share has spiked in recent years. It has insured more than 25 percent of all of the country's mortgages, according to data collected by the U.S. Department of Housing and Urban Development.
To obtain more helpful information or to speak with a loan officer please visit: TheFederalSavingsBank.com