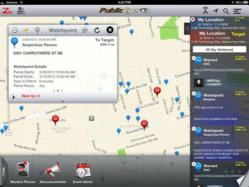 Nashua, NH (PRWEB) April 29, 2013
Zco Corporation is providing PublicEye to the Albuquerque, NM police department for inclusion in its Real Time Crime Center (RTCC). PublicEye is a real-time mobile intelligence platform for officers' smartphones and tablets.
Albuquerque will be deploying iPhones to its officers and iPads to supervisors. PublicEye leverages the diverse capabilities of smartphones to provide a higher level of flexibility both in and out of the vehicle. Using the PublicEye Global Device Locator (GDL), the RTCC can view the location of each officer and alert them with push notifications. Headquarters can securely send texts, documents and photographs to officers as well as update their "Roll Call", a private forum that shows wanted photos, department announcements, and significant event alerts.
"At the Real Time Crime Center, we have so much information at our fingertips and we need an efficient way to send that information to our officers in the field. We are excited to partner with Zco and put PublicEye in the hands of our officers," said T.J. Wilham, Real Time Crime Center Manager of the Albuquerque PD.
PublicEye graphically displays critical, timely data to first responders in the field. For Albuquerque, PublicEye is mapping location BOLOs (Be On the Look-Out) and outstanding warrants. On their mobile device, officers will be able to easily identify Watchpoints (directed patrol) and the locations of their fellow active responders.
"We are happy to be working with Albuquerque PD to further their Smart Policing Initiative. PublicEye will tangibly improve the information flow between their headquarters and police officers," said Gary Mueller, VP of Business Development at Zco Corporation.
PublicEye is currently being deployed for field trials as part of the RTCC initiative that was announced in September 2012. At the RTCC, sworn officers staffing the center can look up the name of a 911 caller in dozens of databases and alert first responders to any criminal history, restraining orders, mental health issues, or any other conditions they might have. In addition, social media networks such as Facebook, Twitter, and Flickr are monitored for potential leads near reported incidents. For more information on the RTCC, please see the Smart Policing Initiative website.
About Zco Corporation
Founded in 1989 and headquartered in Nashua, New Hampshire, Zco Corporation has served Fortune 20 companies to small businesses for over 20 years. Zco is one of the largest custom mobile app developers in the world. Its services include 3D animation and games, augmented reality and custom software. In addition to Zco's work for hire, it has an iOS and Android-based public safety product, PublicEye®. To learn more, visit http://www.zco.com/.