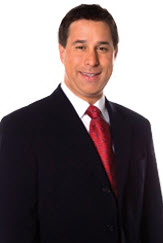 I can't imagine the grief they are facing but they have shown so much gratitude that she's alive and recovering.
(PRWEB) April 29, 2013
Two year old Ireland Nugent lost both of her legs and a piece of one hand to her father's riding lawnmower last week. Ireland has come through surgery without complications, but injury attorney Michael Steinger of Steinger, Iscoe & Greene says it's likely that the family will launch a lawsuit against the manufacturer of the lawnmower.
Ireland's father, Jerry Nugent, was mowing the grass on a riding mower when she ran toward him. Her father was unable to stop the mower and it knocked her over, severing both legs below the calf. According to her mother, Nicole Nugent, she knew she had lost her legs immediately. Ireland was sedated on the scene by paramedics and kept sedated for several days after her surgery according to an article published on Fox News April 16, 2013.
Steinger, who focuses much of his law practice on consumer product injuries says, "There is no immediate indication from the family that they will file a lawsuit but the accident leaves many questions about the mower."
"No one has named the make or model of mower yet, and it's unclear how much time her father had to stop or how well the brakes worked," Steinger said. "What is clear is that every riding mower should have a front guard that blocks this kind of thing from happening."
For such a life-changing injury, Steinger says the family is handling it very well.
"I can't imagine the grief they are facing but they have shown so much gratitude that she's alive and recovering," Steinger said. "Several charities have reached out to them but they should not have to worry about the financial costs. If the lawn mower was faulty, the manufacturer is responsible."
About Michael Steinger:
Michael S. Steinger is a founding partner of Steinger, Iscoe & Greene and among the team of West Palm Beach car accident lawyers and personal injury attorneys. Mr. Steinger is a dedicated advocate and maintains a strict promise only to work on behalf of victims and never big business. He can be contacted at:
Steinger, Iscoe and Greene
1645 Palm Beach Lakes Boulevard
Ninth Floor
West Palm Beach, Florida 33401
800-560-5059