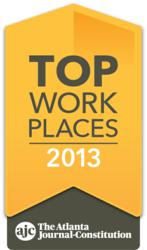 Atlanta, GA (PRWEB) April 30, 2013
Payscape Advisors, a leading financial technology and payment solutions company headquartered in Atlanta, GA, has been named a top company to work for by the Atlanta Journal-Constitution for the second consecutive year.
Payscape Advisors competed with more than 1,200 companies to become a top workplace winner in the small business category.
"Payscape recognizes that a huge factor in becoming the leading payment solutions provider in the world is investing both personally and professionally in our employees," says Adam Bloomston, co-founder and CFO, Payscape Advisors. "Being named a Top Workplace for the second year in a row is a true testament to our commitment to fostering an internal culture of entrepreneurial growth, creativity, and personal development."
Winners were selected based solely on employee surveys distributed by corporate survey partner, Workplace Dynamics. The survey measured a company's work environment, leadership, strategy, opportunity, values, direction, compensation, and benefits.
"There is a proven correlation between a company's growth and its internal culture," says Jeremy Wing, co-founder and President, Payscape Advisors. "It is our responsibility to focus on organizational health if we plan on continued innovation, success and recognition within the fintech community."
To preview Payscape Advisors' unique culture firsthand, visit http://payscapeadvisors.com/our_culture.php or explore career opportunities at http://payscapeadvisors.com/careers.php.
About Payscape Advisors
Payscape Advisors is the leading financial technology and payment solutions company dedicated to making it simple for business owners to collect money. We're a team of inspired entrepreneurs intent on disrupting the commoditized payment landscape with cutting-edge products and services, universal API integration, best-in-class customer service, strategic referral and technology partnerships, and a lifelong devotion to helping small to mid-size business owners increase cash flow. For more information on our products and services, visit http://www.payscape.com.
About Top Workplaces
The Top Workplaces program recognizes good employers on 30 regional publication lists and one national list. The evaluations for each list are basely purely on employee opinions gathered from the tried and tested Workplace Dynamics' employee survey. For more information, visit http://www.topworkplaces.com.