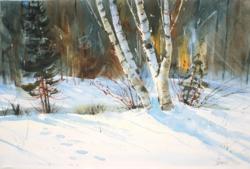 "I was looking at Gord Jones' works online, and was stirred by his mastery of watercolour, and by his love of landscape painting." Fredericks on his blog titled "A Portrait of the Visual Arts in Canada".
Minden, Ontario, Canada (PRWEB) April 30, 2013
Gord Jones has been elected into the prestigious Canadian Society of Painters in Watercolour (CSPWC) and will receive his diploma commemorating this election at the Annual General meeting on May 4th, 2013 signed by the Governor General of Canada. Gord is one of a growing number of artists associated with the online art gallery MadeInHaliburton.ca. This online gallery sells the work of artists from the visual, performing and literary arts who live or cottage in the artistic community of the Haliburton Highlands, Ontario, Canada.
Election to the CSPWC requires the artist to submit 6 transparent watercolour paintings electronically to a nine-person jury. These paintings must also be reviewed in person by one juror to ensure that the electronic representation is accurate. Successful applicants donate one painting to the national diploma collection of the CSPWC. The painting donated by Gord is depicted in the attached photo. The watercolour painting is titled "Footsteps and Birch" and measures 14" by 21".
Rudolf Stussi, the then president of the organization, established the CSPWC/SCPA Diploma Collection in 1991. This collection documents the evolution of watercolour painting in Canada for future generations. One painting by each of the members, past and present, is available through this collection for the use of students, educators, curators and historians. Artists who were elected before 1991 were also invited to add to the collection but, for each artist elected since then it has been a condition of election.
The CSPWC was formed in November of 1925, in the library of the Arts and Letter Club, by a group of 12 major Canadian artists who were all passionately committed to the the importance of watercolour as a medium. The founding artists were: F.H. Brigden, A.J. Casson, Franklin Carmichael, C.W. Jefferys, Fred S. Haines, L.A.C. Panton, R.F. Gagen, Thomas G. Greene, Robert Holmes, Franz Johnston, Andre Lapine, and E.J. Sampson. Their aim was to recognize, encourage and nurture excellence of work in the medium of watercolour.
MadeInHaliburton.ca wishes to congratulate Gord Jones for assuming a place amongst such an auspicious group of artists. Please view other works by Gord Jones.