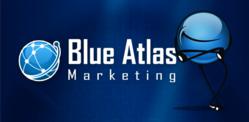 It's a great opportunity for me to learn more about web marketing and work with experts in this field. - Marion Barbo
Houston, TX (PRWEB) April 30, 2013
Blue Atlas Marketing is growing their staff once again to meet the ever-increasing demand for top-quality web marketing services.
Blue Atlas is one of the fastest-growing web marketing companies in Houston and they are continuing that trend with the addition of three new employees. This expansion will help the company continue to provide clients with the high quality of services that Blue Atlas is known for and continues to grow capabilities of the company.
In February, Chance Graham joined the team as a Marketing Consultant, working closely with veteran salesman, Dave Eyre. In April, Blue Atlas welcomed both John Phillips and Marion Barbo as well. John's task is to guide the marketing message behind all of Blue Atlas' projects as well as helping streamline the workload internally in the roll of Marketing Manager. Marion is an MBA student from France and is serving as the team's Web Marketing Intern. As the company is involved with multiple International Chambers of Commerce in Houston, the addition of an international employee will be a helpful addition to the company.
"I am very excited to start working with the Blue Atlas Marketing team. It is a great opportunity for me to learn more about web marketing and work with experts in this field," said Web Marketing Intern, Marion Barbo.
Blue Atlas expects to keep growing as demand for their Web Marketing, Website Development, SEO, Social Media Marketing, & Mobile App Development services keeps growing. Having recently doubled the size of their office in Fall 2012, the company has already filled up the additional space and will be looking to expand offices again soon. It's clear that Blue Atlas Marketing is a company on the rise.
Be sure to follow the Blue Atlas staff, via their online comic strip "Turning Blue", as they tackle the funnier side of web marketing misconceptions and inner-office situations.
For more information on Blue Atlas' web marketing services, visit their website: blueatlasmarketing.com.
About Blue Atlas Marketing
Blue Atlas Marketing is a Houston web marketing company who delivers integrated marketing solutions. Using cutting-edge online technologies, we combine all the facets of your marketing effort into a cohesive, web-based initiative for maximum impact. Utilizing all aspects of web marketing, from website design and SEO to email marketing and pay-per-click campaigns, wherever you want your company to be, we get you there.