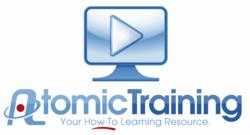 Little Falls, MN (PRWEB) April 30, 2013
Atomic Training has expanded its online training library to now include extensive training on Microsoft Excel 2013. These three additional Excel series will give users a deeper understanding of how to apply features and functions of this application to their daily lives. Along with Excel, Atomic Training has also added in-depth training on other Microsoft Office 2013 applications including PowerPoint, Word, Access and more.
A brief description of the recently added training follows.
Excel 2013 – Charting Training:
These training tutorials will provide users knowledge of how to use Excel 2013's charting capabilities to effectively compare data and communicate information.
Excel 2013 – Evaluating Data Training:
This series will cover how to set, control and check that the data entered into Excel 2013 is valid. Viewers will get the most out of the data validation functions in Excel with this training series.
Excel 2013 – Frequently Used Formulas & Functions Training:
From using common formulas such as SUM, AVERAGE and IF, to more complicated formulas such as NESTED IF functions, viewers will learn common uses for a variety of formulas in Excel 2013.
Other training added to the training library includes:

Word 2013 Training – including Mail Merge, Creating Forms, and Tables & Graphics
PowerPoint 2013 Training – including Animations & Transitions and Working with Pictures
Access 2013 Training
FileMaker Pro 12
SQL Training
xHTML and CSS3 Training
For more information about Atomic Training, subscribe to blog.atomictraining.com, visit facebook.com/AtomicTraining, follow @atomic_training on twitter, or check them out on YouTube.com/atomictraining to view a sampling of software tutorials.
For more information contact:
Clay Moore
866-259-6890 Ext. 221
cmoore(at)atomictraining(dot)com
About Atomic Training:
Atomic Training, now partnered with Geek Squad, provides on-demand software training to help businesses, organizations, and individuals gain greater confidence and success in using the technology that is part of their professional and personal lives. They offer over thousands of how-to video tutorials on over 150 software applications. For more information, please visit: http://www.atomictraining.com.