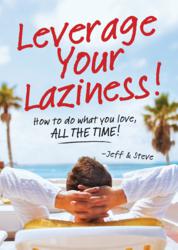 We're proud to work with authors like Jeff and Steve, who are so knowledgeable and entertaining at the same time.
Shippensberg, PA (PRWEB) April 30, 2013
Leverage Your Laziness: How to Do What You Love, All the Time by Jeff Goldberg and Steve Bookbinder will be released on June 1st, 2013 by Sound Wisdom Publishing. The book is a guide to get readers what they want with the least amount of effort. Jeff and Steve, two former stand-up comedians who became successful speakers, entrepreneurs, and business owners, decided to leverage their own laziness and enjoy the ride along the way, and detail how they did it in this book.
The book includes witty commentary and useful tools to help readers achieve their dreams. Designed to be a quick read packed with common sense, helpful hints, intellect and humor, the book also contains sixteen principles, dozens of motivational quotes from recognized leaders, and the opportunity for each reader to apply the principles to his or her own specific situation.
"We're excited to launch this book on National Go Barefoot Day," said David Wildasin, of Sound Wisdom Publishing, "We're proud to work with authors like Jeff and Steve, who are so knowledgeable and entertaining at the same time."
The book will be made available through all fine retailers on June 1, 2013.
Jeff Goldberg is a professional speaker, sales consultant, trainer and coach. His company, JG&A works with individuals and organizations of all sizes to improve sales and sales management. His career spans almost 4 decades in sales, sales management, consulting and training.
Steve Bookbinder is the co-founder and CEO of Digital Media Training, a global training company and leader in m-learning (e-learning pushed out through mobile devices). His background is in sales, sales management and coaching. He's trained more than 30,000 people. Steve first began leveraging his laziness when he turned his hatred of writing proposals into a winning strategy for closing sales. Eventually, he expanded the principle to every aspect of his life. The result: nearly 100% of his time is now spent doing the things he likes to do, is good at and comes easy to him.
Located in Shippensburg , PA, Sound Wisdom Publishing is a publisher of personal development, business growth, leadership, health, fitness, and finance products. To learn more about Sound Wisdom visit http://www.soundwisdom.com.