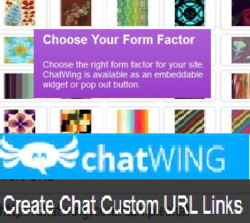 New York, NY (PRWEB) May 01, 2013
Chatwing.com, an online company known for creating applications in the blogosphere, has recently introduced the newest version of its primary chatroom. In this new version, the company included important features, such as chat networks, live user detection, unlimited message history, advanced customization choices, and social media integration. With these features, the chatroom can boost the online traffic of any niche website.
Chat network is the newest add-on in the latest version of the chatbox. With this feature, the website owner can link his chatroom to other chatrooms. This can be done in the account dashboard; the user just needs to select a network from the current selection and the chatroom will be connected instantly. After embedding the chatroom, the user will see the results within seconds. This is useful in creating subscriber groups that can contribute to a website's traffic rate.
The second theme of the Chatwing chatbox is also available. This theme is known as user detection. The feature allows chatroom admins to see the current active visitors in the chatroom; aside from that, they can also see the messages typed by those users. The theme only takes a small portion of the chatbox and the user can return it to the default style anytime.
The Chatwing tool can be used in any website marketing campaign because of its social media advantage. Visitors can log in with their Facebook and Twitter accounts, and the admins can send them invitations or friend requests. To know more about the importance and uses of the Chatwing chat tool, users can visit Chatwing's Facebook page. The developers are always updating the page for further information.
About Chatwing.com
Chatwing.com specializes in the new field of website chat. Over years, the Chatwing team has introduced live chat widget for hundreds and thousands of blogs. The Chatwing application bridges people from many parts of the world, creating global synergy through the Internet. The shout box can be installed in just seconds, and it can be used for varying purposes such as leisure and Internet marketing. It also allows a user to customize the size, color, and name of the widget. Chatwing is 100% free for everyone.