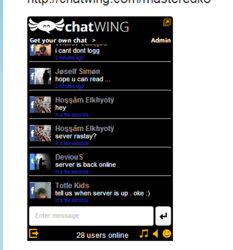 New York, NY (PRWEB) May 09, 2013
To ensure funding for creative and phenomenal projects, artists are now turning to crowdfunding or crowdsourcing opportunities. Many professionals believe that sending a clear idea-based message is needed in crowdfunding communities. Chatwing.com recently offers its support to crowdfunding communities by launching the new version of its website chat app. The new chatroom has reliable features that can improve the way people experience online chat. These features can also boost the exposure of any website or blog.
Since a crowdfunding website will benefit from a high traffic rate, Chatwing usage is a necessity. The developers of the chatbox made a careful observation and according to them, the traffic rate provided is more than 50%. The percentage can even go up depending on the frequency of chatroom usage. A regular Chatwing chat lounge can also accommodate thousands of users, so the potential of reaching groups is really high. Even though many visitors are chatting in the chatroom, the speed remains unaffected and there are no interruptions.
Chatwing.com has also created another connectivity factor: chat network system. With this system, users can link their chatrooms together in one niche or network. Once chatrooms are connected, these users can exchange information at a very fast rate. This is important in crowdfunding campaigns, especially if the ideas being presented are fresh and crucial to the development of a niche. More than that, Chatwing tool has social media integration, allowing users to use their social accounts as login options. Now, crowdfunding can even extend to the social media premise.
To know more about Chatwing chatroom and its usefulness in all niches, users are advised to visit the company's Facebook page. The company's developers are always updating the Facebook page with informative content.
About Chatwing.com
Chatwing.com specializes in the new field of website chat. Over years, the Chatwing team has introduced live chat widget for hundreds and thousands of blogs. The Chatwing application bridges people from many parts of the world, creating global synergy through the Internet. The shout box can be installed in just seconds, and it can be used for varying purposes such as leisure and Internet marketing. It also allows a user to customize the size, color, and name of the widget. Chatwing is 100% free for everyone.