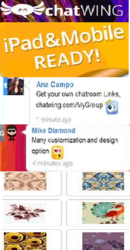 Seattle, WA (PRWEB) May 11, 2013
The second theme of Chatwing chatroom is now available for hundreds of web users. This theme is called as live user detection and it offers another vantage point for all users of the Chatwing tool. The live user detection is a fine add-on that can support any website marketing campaign or awareness run. It can also help a regular chatroom visitor in communicating with other users from different niches.
The live user detection theme acts as an improved version of the chatbox message history. With this, the user gets to see the messages typed by the current active visitors in the chatroom. He can also send social media requests to those users presented in the sidebar.
Since the live user detection is a theme, it occupies a small portion of the chatroom. Users can switch to the default theme of the Chatwing tool anytime. One of the clear benefits of the live user detection theme is data reference. Now, Chatwing admins can review the messages typed by the visitors, and they can also note the data for future references. Apparently, this is useful for online marketers who are looking for leads and future contacts.
Chatwing developers will add more themes within the year. The preview content of these themes will be posted in Chatwing's Facebook page and Wordpress blogs. Developers are certain that the upcoming themes will bring higher rates of platform efficiency and connectivity for all registered Chatwing users.
About Chatwing.com
Chatwing.com specializes in the new field of website chat. Over years, the Chatwing team has introduced live chat widget for hundreds and thousands of blogs. The Chatwing application bridges people from many parts of the world, creating global synergy through the Internet. The shout box can be installed in just seconds, and it can be used for varying purposes such as leisure and Internet marketing. It also allows a user to customize the size, color, and name of the widget. Chatwing is 100% free for everyone.