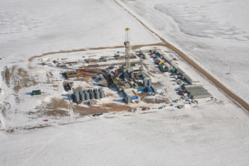 We see the Bakken region growing even more, and have opened an office in Killdeer, ND to better serve our customers
Beaumont, TX (PRWEB) May 10, 2013
Fracking, new shale discoveries and efficient technological advancements are making some question the reality of America's self sufficient energy status, as rig mat companies and energy analysts reflect on, respectively, firsthand experience and data. The U.S. is on track to out produce Saudi Arabia as an oil producer by 2017, reports the World Energy Outlook for 2013 as reported in Bloomberg.com. The Rhodium Group, a global analysis company, reports in IBTimes.com similar estimates with U.S. growth in line with this trend.
"Domestic oil production will continue to grow this year, and the share of U.S. petroleum costs that leave the country will continue to fall," says Trevor Houser, a Rhodium Group energy specialist.
Technological Advancements
Fracking, a hydraulic process to extract natural gas used on shale's and horizontal drilling, have been credited for much of this growth. This renewed interest in fossil fuel development has been credited for diverting attention from new green energy initiatives.
"…you cannot entirely dismiss that the use of energy-efficient technologies came under pressure through fracking in the United States," says Franz Fehrenbach, Chairman of Bosch, one of the world's largest auto parts suppliers in a recent Reuters article published March 31, 2013. "The longer availability of fossil fuels naturally has an effect on the (economic) calculation of resource-friendly technologies."
Production Explosion
U.S. crude oil production is predicted to increase to 7.32 million barrels a day in 2013 by the United States Energy Information Administration. Since 2010, demand for crude oil has increased by 80%, and production is predicted to outperform the current capabilities for refinement and distribution according to Emily Pickrell in a FuelFix article published March 29, 2013. She reports in this same article that two new refineries are expected within the next two years; the first, the Dakota Prairie refinery, in a joint venture by MDU Resources Group and Calumet Specialty Products Construction, and a second, the Trenton Diesel Refinery, by Dakota Oil Processing.
Bakken Boom
North Dakota's Bakken Shale shows promising growth in 2013 with steady production estimates. OilandGasInvesting.com predicted April 11th that numerous gas companies will be profiting even more with the discovered of additional recoverable oil. The Bakken Shale 'boon' has lead to an influx of new businesses entering North Dakota, such as rig mats supplier Quality Mat.
'We see the Bakken region growing even more, and have opened an office in Killdeer, ND to better serve our customers in this region," says Quality Mat manager Joe Penland. Many companies are investing in the North Dakota region in anticipation of years of growth.
More on Quality Mat
A manufacturer and provider of rig mats in the Bakken Shale, Eagle Ford, and numerous other drilling and gas applications, Quality Mat Company pioneered the use of interlocking mats in the 1970's in the Texas oilfields. To find out more about rig mats in North Dakota visit Quality Mat Company. Stay up on recent news on the drilling rig industry and shale news at the Qmat Blog, qmat.info.