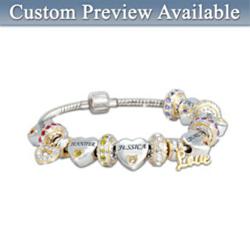 Distinctive and meaningful Mother's Day gifts for loving mom.
Niles, IL (PRWEB) May 01, 2013
As the spring season sneaks in and Mother's Day draws nigh once again, people the world over will begin their quest to find Mom the perfect gift. For 40 years, The Bradford Exchange has been helping their customers with Mother's Day shopping by offering a wide selection of unique gifts that cannot be found in stores. This year will be no different. In fact, it might just be their best Mother's Day yet. Join them as they celebrate Mom and celebrate love!
Here's what to expect from Mother's Day at The Bradford Exchange Online: beautiful pendants, personalized rings and bracelets for Mom with engraved names and birthstones, stylish fashion apparel showcasing popular themes and licensed artwork, and heirloom treasures, including collectible music boxes and figurines, that feature sentiments meaningful to a spectrum of distinctive moms. The Bradford Exchange Online can help anyone find a Mother's Day gift that's right for any Mom and they strive to make shopping for gifts made just for Mom quick and convenient.
The Bradford Exchange is currently celebrating 40 years of Innovation, Artistry and Design of Enduring Value, characteristics that have defined them as an industry stalwart of the past, present and future. They would like to extend a warm invitation to shop with them this Mother's Day season, and all year 'round, as they continue to offer the very best and most exciting new collectibles, fine jewelry, fashion apparel and gifts.