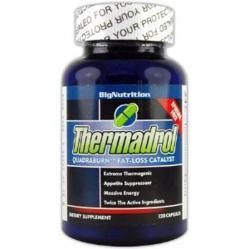 (PRWEB) May 01, 2013
BigNutrition is excited to announce that their best selling Thermadrol product is now formulated with Vitamin B6. This new formulation adds serious value to the already potent weight loss formula. Vitamin B6 is one of the most important nutrients for the human body, and its addition to Thermadrol will help BigNutrition customers feel and look better than ever!
Thermadrol has already proven itself as one of the best and most effective weight loss products on the market for people ready to lose twenty pounds or more. While losing excess weight is a healthy choice, dieting can be emotionally and sometimes even physically stressful. This is where the addition of Vitamin B6 comes into play. Here are just a few benefits if adding Vitamin B6 to a healthy diet:

Mood enhancement- Vitamin B6 is often known as the 'happy vitamin' because of its mood boosting abilities. Dieting can sometimes make people feel moody and depressed, but Vitamin B6 has the opposite effect, and usually makes people feel very happy and uplifted.
Energy booster- Vitamin B6 has been known to boost metabolism and energy, making it even easier to lose weight. Athletes make sure to include plenty of the B vitamins in their diets to give them a competitive edge.
Immunity strengthener- Vitamin B6 super charges the immune system, helping to fight off minor colds and more serious illnesses.
Great for hair, skin, and nails- Vitamin B6 helps the body build proteins needed for healthy production of new skin cells. With this enhanced production, hair is shinier, skin is more clear, and nails are strong and smooth.
It's important to make sure to include all vitamins in a healthy diet through food, but with busy lifestyles, that's not always possible. It's especially important to have all essential nutrients when trying to lose weight. The addition of Vitamin B6 to the Thermadrol product makes it easier to lose weight and stay healthy. Individuals looking to lose weight can purchase Thermadrol on Amazon.com or direct from BigNutrition.com