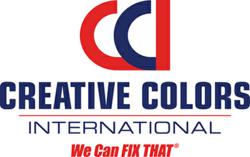 "Hireology helps our franchise owners focus on finding the most qualified candidate in one place."
-- Terri Sniegolsk, CEO, Creative Colors International
Chicago, Ill (PRWEB) May 03, 2013
The corporate office of Creative Colors International implemented Hireology's selection management platform. With a mission to be available, adaptable, flexible and responsive to the needs of customers, Creative Colors is dedicated to building a customer-focused team.
Through the utilization of Hireology's platform, Creative Colors will have access to applicant tracking capabilities, interview guides and verification services. Enabling corporate to successfully expand their team, Creative Colors will be ensured each new hire will uphold their strong customer service values.
"The toughest challenge in our franchise system is trying to find the right technician," said Terri Sniegolski,Sr. Vice President of Creative Colors International, Inc. "Hireology helps our franchise owners focus on finding the most qualified candidate in one place, from start to finish, without adding on the higher expense of time and money which would take away from the growth of their business."
With over 40 franchise locations, Creative Colors International offers the latest techniques and products in the repair, reconditioning, protection, and color restoration of leather, vinyl, fabric, plastic and carpeting.
About Hireology
Hireology's award-winning Selection Management System helps companies organize their hiring process and leverage data to make better hiring decisions. Franchise systems, banks and financial institutions, healthcare systems, dealer networks, and other multi-site operators use Hireology's web-based Selection Manager™ to deliver consistent and repeatable hiring decisions in the field - leading to better hiring decisions, lower turnover, and increased profitability per location. For more information, please visit http://www.Hireology.com.
About Creative Colors International
Creative Colors International, Inc. is a company where a family atmosphere is instilled in each franchise. We portray our family style business to our franchisees so that they will use these values in growing their own business. Quality and service is the future of our industry and we strive continually for both at Creative Colors. Our franchise system currently has over 40 locations including our affiliate and company owned locations.