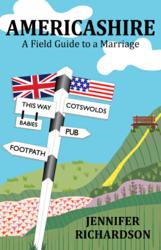 Spring is in full bloom in England, and there's no better time for travelers to visit the Cotswolds. For visitors heading overseas, Jennifer Richardson runs down her top ten to-dos for travelers in this iconic English region.
Santa Monica, CA (PRWEB) May 01, 2013
A picturesque network of hamlets, villages, and market towns in southwest England, the Cotswolds is well known for its honey-colored stone cottages, stately homes, and stunning scenery. Jennifer Richardson—travel writer and author of Americashire: A Field Guide to a Marriage (She Writes Press/ May 2013)—spent three years living in the heart of the Cotswolds, after she and her British husband bought a two-hundred-year-old cottage, hoping for an escape from their London lives.
Spring is in full bloom in England, and there's no better time for travelers to visit the Cotswolds. For visitors heading overseas, Jennifer Richardson runs down her top ten to-dos for travelers in this iconic English region:
1. Discover the Footpaths:
The single essential experience of the Cotswolds is to go for a walk. May blossom, bluebells, and acid yellow fields of rapeseed are all on offer on the endless networks of public footpaths. The Cotswold Wardens offer guided walks, but armed with an Ordnance Survey map visitors can easily get around on their own.
2. Get the Royal Treatment:
Royal enthusiasts should head to the market town of Tetbury, where they can visit the private gardens of Prince Charles and Camilla, Duchess of Cornwall, on their Highgrove estate (requires advance booking). There is also a Highgrove Shop and a terrific selection of antique stores on the High Street.
3. Horse Around:
The Cotswolds is horse country. Cheltenham Week, which includes the Cotswoldian equivalent of the Kentucky Derby, has already passed, but visitors this spring are just in time to catch a polo fixture at Beaufort or Cirencester Park.
4. Do As the Romans Do:
The Cotswold's Roman lineage includes the National Trust's Chedworth Roman Villa and the Corinium Museum in the market town of Cirencester. If the timing's right at the Villa, visitors will be treated to a gladiatorial display by middle-aged men (and at least one woman), in addition to some fine mosaics.
5. The Sound of Music:
Musical outings abound in the Cotswolds, starting with the Cheltenham Jazz Festival in early May. For a more village feel, try the Guiting Festival in Guiting Power, which runs from July 26-August 3 this year. Longborough Festival Opera and Opera Brava both provide opportunities to enjoy opera in a country house setting this summer.
6. Literary Links:
With its Shakespearean ties, Stratford-upon-Avon, the Cotswold's northern neighbor, sometimes seems to have a monopoly on the area's literary heritage. But, from Milton to the Mitfords, there are plenty of literary connections right in the Cotswolds. Start with the Slad Valley, the setting for Laurie Lee's Cider with Rosie, that most enduring icon of Cotswolds literature. Or, for a more contemporary approach, check out one of the area's literature festivals. A relative newcomer, the Chipping Campden Literature Festival runs through May 5 this year, while the Cheltenham Literature Festival begins in October.
7. Grow a Green Thumb:
No visit to this green and pleasant land is complete without a visit to an English garden. In addition to Highgrove, Hidcote Manor Garden in the north Cotswolds is a great option. For a more intimate and less formal experience, visit Rosemary Verey's famous gardens at Barnsley House. Once her private home, Barnsley House is now a country house hotel and restaurant. It's well worth the price of afternoon tea to have a wander in the gardens.
8. Fêtes and Fairs:
Spring and summer are the season for village fêtes, and a great way to experience some pocketbook-friendly local flavor. Keep an eye out for homemade signs posted along the roads. Refreshingly low tech games—like the coconut shy and wellie wanging —abound, as do tea and cakes.
9. Savor the Flavors:
The quintessential British meal is a Sunday roast, and there's no better place to experience it than a country pub. A favorite spot is the Black Horse Inn at Naunton. Slightly more upscale offerings include the Village Pub in Barnsley and the Wheatsheaf Inn in Northleach, while vegetarians will fare best at the excellent Abbey Home Farm Shop and Café.
10. Window Shop:
Rummage through one of the many reclamation yards, chock full of everything from garden ornaments (stone orbs and mushrooms are particular favorites in the Cotswolds) to antique ledge and brace doors. Not much here will fit in the overhead compartment of a plane, but you may find a brass doorknocker or an antique book that will make a suitably portable souvenir. At the opposite end of the shopping spectrum is the original branch of Daylesford Organic, also known as the Harvey Nichols of the Cotswolds. In addition to a tasteful selection of kitchenware, gardening tools, and clothing, there's a spa and an excellent deli and café onsite.
Jennifer Richardson is an American Anglophile who spent three years living in a Cotswold village populated straight out of English central casting by fumbling aristocrats, gentlemen farmers, and a village idiot. She is married to an Englishman who, although not the village idiot, provides her with ample writing material. She currently lives in Santa Monica, California along with her husband and her royal wedding tea towel collection. Americashire: A Field Guide to a Marriage is published by She Writes Press.
For more tips and information visit Jennifer Richardson's website: http://www.americashire.com