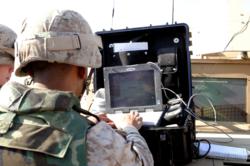 Adding Bill to the Touch International team extends our understanding of display enhancement capabilities and processes solidifying why we are a leading provider in this industry.
Austin, TX (PRWEB) May 07, 2013
Touch International, Inc., one of the world's leading manufacturers of touch technology and display enhancements, announced today the appointment of William Linzmeier as Vice President of Business Development. Bringing with him over 25 years of industry experience, Linzmeier's in-depth knowledge of sunlight readable displays and full assembly integration will only strengthen the already robust team at Touch International.
"Touch International has been built on a strong foundation of industry veterans which gives us the ability to tackle strict industry requirements and what I like to call "WoW", Weird or Wacky, products that most companies steer away from," explains Touch International CEO, Michael Woolstrum. "With technology constantly evolving and growing at a rapid pace, our goal is to mirror that evolution by continuing to add expertise to our team. We are excited to have Bill on board."
Linzmeier has held titles such as Vice President of Sales and Vice President of Engineering at eVision Displays in Duluth, GA. Prior positions include engineering, sales and business development management at Hitachi America, Ltd. and Motorola, Inc. These combined experiences have fine-tuned Linzmeier's proficiency in the display industry; emphasizing sunlight readable LCDs, embedded computers and custom assembly solutions for military, aerospace and industrial markets.
"I am thrilled to be a part of such a well-rounded company. My extensive involvement with sunlight readable displays and full assembly units will only further compliment the team's already extensive understanding of cutting edge touch screen and display enhancement technology," explains Linzmeier. "With our combined knowledge, we will be able to provide customers in specialized industries the total solution they need to meet their stringent requirements."
Starting with the acquisition of display enhancement assets from Dupont Display Enhancements in Torrance, California in May 2008, Touch International has since grown its Asian operations as well as finished a complete renovation of its Austin, Texas facility as part of a $10 million expansion effort and technology development plan. Specializing in custom solutions for specialty markets, TI is dedicated to the continued broadening of its in-house, value-add expertise in order to provide its customers the best service possible.
"We provide a spectrum of enhancement options ranging from EMI shielding and optical films to direct bonding and full display integration," explains Woolstrum. "Adding Bill to the team only extends our understanding of these capabilities and processes solidifying why we are a leading provider in this industry."
About Touch International
Touch International is the leading manufacturer of specialty touch screens and display enhancement windows, and is the largest touch producer in North America. The company is world-renowned for its expertise in optically clear touch panels, EMI filter technologies, and custom touch screen designs for military, aerospace, medical, transportation and retail applications. Touch International was first to produce the Apple iPhone-type projected capacitive touch screen, and also builds resistive sensors and glass filter products used in touch screens, display windows, anti-reflective and anti-vandal filters.