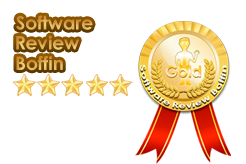 The expert team initially identified certain critical features that good memory software must offer its users in order to ensure maximization of customer satisfaction.
New York City, NY (PRWEB) May 06, 2013
Software Review Boffin's team of reviewers is intent on uncovering the latest and greatest software products available on the market. This quest has now led the team to search for the best memory software products amongst those currently being marketed by various software companies. Expert reviewers selected an extensive range of memory software products to test, and conducted rigorous research in order to determine the top three memory software products. The team's latest research places Phenomenal Memory Software at the third place position, and today's published review states that this software is worthy of a bronze medal and three stars.
The expert team initially identified certain critical features that good memory software must offer its users in order to ensure maximization of customer satisfaction. Careful analysis revealed the top three picks for memory software, and the team notes that all three products provide high quality learning experience to the users. Slight differences in product features set them apart from one another and this is reflected in the difference in overall placement.
For Boffin, Phenomenal Memory Software is a "great" software; one that is specifically suited for students who can invest substantial time and effort to improve their memory. The team notes that the software allows users to work at ease and provides a step by step guide that ensures that users can learn at their own speed.
The detailed reviews of memory software published at the Boffin site indicate that Phenomenal Memory Software has clearly been designed after extensive research, as the software incorporates an extensive range of subjects that are significant within the memory improvement, process such as nutrition and the need to follow a proper diet.
The Boffin review points out that Phenomenal Memory Software offers its users 60 lessons in all, and the team believes that student will be able to drastically improve his or her memory after going through all the lessons. The team holds that extensive lessons presented to users have allowed the software to gain a competitive edge in the market. The review also highlights that the lessons are organized in a structured manner so that the user easily progresses from basics to complicated texts and books.
The reviewers at Boffin believe that ease of use and customer support and help are two important factors that impact the success of any software, and both of these factors were found within Phenomenal Memory Software. The software offers an easy to use interface along with online instructors that are available to help students progress from one step to another. As the Boffin review further states, the software provides a money back guarantee to users that are not satisfied with the results.
Despite the positive attributes associated with Phenomenal Memory Software, the Boffin team decided that the product falls short in terms of value for money. As noted in the review, the Boffin team believes that the software is overpriced and therefore uneconomical in contrast to competitor products that offer similar or better features at a lower price. Notwithstanding this fact, Phenomenal Memory Software received high scores in terms of efficiency and effectiveness, and therefore was awarded the third-ranked position on the list.
The Boffin team will continue to assess Phenomenal Memory Software and other competitor products on a regular basis. Note: The launch of new products and introduction of technologically advanced features by other existing products might result in ranking changes.
Software Review Boffin reviews the latest technological products in demand on the market right now. They provide expert, honest and straightforward reviews so customers can objectively measure if a product, especially software is well worth it before making their purchase.
To learn more about Software Review Boffin visit http://www.softwarereviewboffin.com