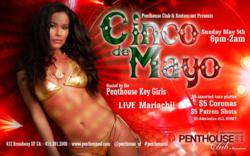 Our Cinco de Mayo parties are always a great time
San Francisco, CA (PRWEB) May 02, 2013
The best strip club in San Francisco is throwing the best Cinco de Mayo celebration in the city as well. Penthouse Club & Restaurant in North Beach is throwing a fiesta to remember, with $5 admission all night long and a live mariachi band.
"Our Cinco de Mayo parties are always a great time," said Penthouse Marketing Director Axel Sang. "Everyone gets in the spirit and the girls love it."
This special Cinco de Mayo in the city is hosted by the Penthouse Key Girls, who will make sure every guest's night is filled with sizzling hot fun. And if the hottie hosts aren't convincing enough, the beer, tequila and taco discounts are sure to set the night on fire.
For Sunday, May 5 only, Penthouse patrons can sip $5 Patron shots by the plenty, chug their fill of crisp $5 Coronas and chow down on a $5 assorted taco platter while keeping pace with the live mariachi band and making face with the classiest adult entertainers in town.
The Cinco de Mayo celebration at Penthouse Club & Restaurant costs only $5 and goes from 6 pm to 2 am.
For more information about Cinco de Mayo at Penthouse, visit penthousesf.com/cinco-de-mayo/. For more information about San Francisco adult club Penthouse Club & Restaurant in San Francisco, visit penthousesf.com or call (415) 391-2800.
About Penthouse Club & Restaurant San Francisco
The Penthouse Club & Restaurant has taken upscale adult nightlife in San Francisco to an entirely new level. Featuring the top exotic dancers from around the country, the 15,000 square foot San Francisco strip club combines the best in adult entertainment with some of the finest dining in the city—including mouthwatering steaks, seafood and pastas prepared by Michelin Star-rated chef Michael Ellis.
The Penthouse Club & Restaurant's distinctive design features include a massive 20-foot tall video wall, LED light curtains, gigantic, see-through champagne display cabinet, video-embedded cocktail tables, intimate private dining booths, and a refrigerated and illuminated ice rail built into the main bar to keep guests' drinks cold.
Located at 412 Broadway Avenue, the Penthouse Club & Restaurant in San Francisco is independently owned and operated, and is open 7 days a week. Bottle service and dinner reservations can be made at penthousesf.com, on Open Table, or just call (415) 391-2800.