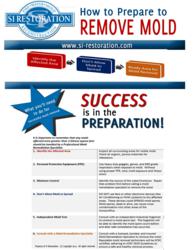 ...these timeless (mold removal) tips should prove useful to home and business owners for the foreseeable future.
Mount Laurel, NJ (PRWEB) May 01, 2013
Mold removal can be a dangerous task for any home or business owner. Allergens, irritants and illness can be spread by mold's seedlings called spores. Mold infestation occurs when spores go airborne, filling the air with concentrated doses of the tiny seeds in search for a habitable environment for a new colony. The spores find dark, damp, wet areas to fester and grow. If that place happens to be inside a house or commercial building, indoor air quality can instantly diminish along with a heightened chance for health risks such as shortness of breath, high fever, skin and eye irritation and other serious side effects.
It is extremely important to understand that coming into contact with mold is dangerous. However large or small the situation, environmental governing bodies like the EPA and the IICRC strongly advise wearing Personal Protective Equipment (PPE) like heavy duty goggles, gloves, and N95 grade breathing respirators when near a mold colony.
It is not advised for home and business owners to come into direct contact with the mold infestation on their own. However, by applying the knowledge contained within this guide, the affected area will be properly readied for safe removal.
Containing mold during the removal process is also a key component to the project's success. Generally, if an affected area is greater than three square feet, a containment barrier must be put in place to avoid spreading of mold spores to other areas of the building. Mold can spread its spores dead or alive, increasing the risk of an outbreak in other areas of the home or office.
Professional remediation specialists like SI Restoration mold services have the tools and skills to handle large removal projects. And while the Baltimore-based specialists have always made themselves available to the public as a provider of reliable advice and tips, SI Restoration has published a new, easy to use guide entitled How to Remove Mold.
The tool is simply titled. It is simply outlined. For home and business owners on a budget whose affected area is three square feet or smaller, this comprehensive guide explains how to prepare for safe mold removal from a reputable remediation specialist. SI Restoration has funneled decades of expertise into a one-page guide for all to use and benefit from. Best of all, the tool follows strict regulations outlined by the EPA and IICRC's S520 Guidelines.
Perhaps the most important aspect of the guide comes at its end. Advising readers to contact a mold remediation specialist cannot be understated. However, these timeless tips should prove useful to home and business owners for the foreseeable future.