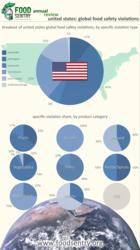 Albuquerque, NM (PRWEB) May 01, 2013
Food Sentry has released an analysis of the primary global food safety violations committed by US companies over the past 15 months, and the results are surprising.
This follows an initial report describing the overall findings of global food safety violations in 73 countries and nearly 1,000 reported incidents, and another report that more closely analyzes the findings from China.
For these studies Food Sentry analysts collected and analyzed lab testing results from domestic and foreign sources around the globe. The top five countries with reported violations were China, the United States, India, Vietnam and Japan.
The report just released on their website drills down more deeply into the data acquired about violative products from the United States.
The results of the report may be shocking to some because it is often assumed the United States has the safest food in the world. While this may or may not be true, it is true that there are some 48 million estimated cases of food poisoning in a given year that result in the hospitalization of approximately 140,000, and lead to the deaths of more than 3,000 every year according to the U.S. Centers for Disease Control and Prevention.
Here is a summary of Food Sentry's findings.
Pathogens were by far the number one problem reported with U.S. foods, accounting for 45 percent of all reported violations.
Mycotoxins (toxins produced by various fungi, most often by species within the Aspergillus genus of mold) were the next most commonly reported food safety violation.
Toxic metals were present in 15 percent of samples evaluated, almost all in seafood.
Pesticides were detected in lab testing at violative levels, primarily on fruits and vegetables.
Excessive use of preservative chemicals was detected in fruit, with laboratory testing identifying sulfur dioxide, various sulfites, benzoic acid and sorbic acid.
You can read more from their study at http://www.foodsentry.org/the-united-states-and-global-food-safety-violations-a-surprising-look/
About Food Sentry
Food Sentry is a subscriber-based global food monitoring service that provides important and timely information on food product safety from around the world to protect consumers. Their mission it to help consumers make educated choices when selecting their food products.